Bengaluru
Kerala Blasters' preparations for Melbourne City game left Bengaluru FC's Erik Paartalu in disbelief!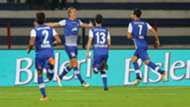 Bengaluru FC share a burgeoning rivalry with fellow Indian Super League (ISL) outfit Kerala Blasters and fans of both teams have been at loggerheads since last season.
In July, Bengaluru FC midfielder Erik Paartalu found himself in the firing line after taking a dig at the Kochi-based outfit's preseason preparations before they played the likes of Melbourne City and Girona in Kochi. The fans of the Blasters did not take kindly to Paartalu's views and lashed out at him on social media, an incident Paartalu describes as funny. 
The 32-year-old Aussie felt that Blasters were woefully under-prepared to take on Melbourne City, a match they lost 6-0. However, the backlash he received will not stop him from airing his opinions. 
Somebody please tell me the reason that Kerala Blasters only started training a week ago when they knew they had an international tournament to prepare for after having 3 months off?

— ErikPaartalu (@ErikPaartalu) July 24, 2018
"That was one thing I decided to do when I came to India to be a bit more vocal and try to open myself up to the market," Paartalu told Goal. "I only started to do it for a laugh. I don't try too hard but I should try a bit harder.
"The Kerala Blasters thing (banter) was funny because after they played Melbourne City, I couldn't believe the way they prepared for the competition. They literally had three months holiday and five days of training before they played City. So I sent out a cheeky post on Twitter and because Kerala have the most vocal fanbase in India and I took a swipe at them, I was taking belters on social media. 
"You learn your place pretty quickly. You've got to take it with a pinch of salt."
However, Paartalu was at the forefront as Bengaluru FC players and fans organised relief materials for Kerala in their hour of need last month. The state had been ravaged by floods which left lakhs in relief camps. Commendably, the Aussie explains that he did not do so to make up for taking at a dig at Kerala fans but for his own peace of mind.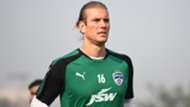 "Everyone jumped on Kerala to help out with the floods. Bengaluru particularly. There's a lot of things we don't advertise like paid for operations and getting boys into hospitals when they need it. The club is good at doing that stuff quietly.
"We gave a lot away personally and it was hard to promote that particularly after my little feud (with Blasters fans). It would've almost seemed like I was doing it because I owed them one but I didn't, I just gave in my own way and didn't tell anyone about it but I had my peace of mind."