Ben Davis
From Singapore Sports School to being the first Singaporean to sign a professional contract with a top-tier English club, Ben Davis represents the future of Singapore football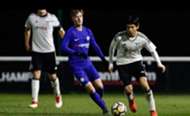 History was made when he became the first Singaporean and possibly Southeast Asian to sign a professional contract with a top-tier English club, Fulham. And at just the tender age of 17, this represents only the start for Benjamin Davis, as the future definitely looks bright for this talented teenager.
Born in Thailand to an English father and Thai mother, the teenager first came through the ranks at JSSL Singapore, a local youth academy started by his father Harvey, before joining the Football Association of Singapore's (FAS) Junior Centre of Excellence (JCOE). He went on to represent various national age-group teams before earning his first call-up to the senior national side in March.
In a wide-ranging interview with Goal Singapore, we asked him about the emotions he felt upon putting pen to paper and his journey in striving to reach the pinnacle of the game.
"Firstly, I feel really happy and proud to have achieved this," revealed the former Singapore Sports School student.
"Getting a Fulham Scholarship over a year ago was a great feeling, but now getting a professional contract is just an amazing feeling. Knowing especially that all the hard work and dedication has paid off."
"I hope this will encourage more Singaporeans to play and train hard and give them the belief that someone from Singapore can make it, into an EPL (English Premier League) academy and become a professional footballer."
Indeed despite his success, like every other athlete the teenager has had his fair share of challenges in getting to the level he is at today be it on or off the pitch.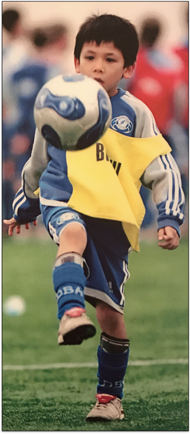 "Like all things in life you have to work hard and put in the training hours with intense dedication," explained the teenager.
"When I was in Singapore training at JSSL and Sports School I knew I had to work my hardest at each training session to push myself beyond my own limits."
"Additionally when I was studying last year I was travelling up to three hours a day to get to and from training while sitting for my exams."
"However it's safe to say that I excelled academically and that mattered greatly as having a solid education is vital."
"With the scholarship and now my professional contract, I am based ten minutes from the training ground so this helps, but still being away from friends and family is still my biggest challenge."
While Benjamin may be far away Singapore is near his heart. And this was exemplified as he felt a rush of pride and excitement when he received his first national call-up, even believing that he can be the catalyst to take the Lions to greater heights.
"When I was called up earlier last year for the national team I was excited at the chance to represent the national team and wear Singapore's colours."
"I feel that I can really contribute to the Singapore team and help them become the Asian powerhouse we used to be."
"Being a dominant player in the Singapore National team, and even one day the captain will help me in my career," mentioned a confident Benjamin.
Meanwhile, Benjamin's confidence is not just rooted in him, but also towards his fellow Singaporean footballers who are dreaming to make it in Europe. This was noticeable as he revealed to Goal Singapore the formula needed for them to excel.
"Work hard, train hard every single day with a purpose and mission."
"Never give up and don't let people put you down or run you down. Hopefully, I can spur on Singaporeans to have the belief they can make it football."
Subsequently, while he wants to spur on other Singaporeans to shine in football, we asked him who were the people that spurred him on to achieve success on the football pitch and also in life.
"As a footballer, Lionel Messi has been the biggest inspiration to drive me on as he is a magician with the ball. But as a whole, personally, my family deserve the credit as they have always been there for me."
"From driving me to my football practice and for always supporting me in good and bad times."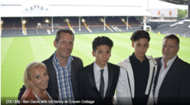 Significantly it is that parental support which has been so crucial in his development and has led him to confidently set lofty objectives that he feels he can accomplish.
"At the present moment, my immediate agenda is to play regularly at Fulham in the 18's and move into the 23's."
"Additionally I want to see if I can get to train with the first team this season. For the future, I hope to play for Fulham in the EPL and secure a first-team berth. Representing Singapore and captaining them are very much in my sights."
Lastly, with the World Cup final taking place, Goal Singapore quizzed him on who he thinks will win the coveted trophy.
"I had Argentina down initially given that (Lionel) Messi is the best player. But now I support Croatia as (Luka) Modric is one of my favourite players."