Jürgen Klopp
'Bayern and Klopp would be a good fit' - Liverpool manager's agent Kosicke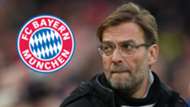 Jurgen Klopp would be a "good fit" for Bayern Munich, according to the Liverpool manager's agent.
Bayern are expected to be on the hunt for a new manager in the summer, with veteran coach Jupp Heynckes set to leave at the end of the season.
The German giants have courted Klopp in the past, though no deal was ever finalised when the coach was working with Borussia Dortmund.
Marc Kosicke does not believe that the 50-year-old will leave Anfield this summer, but he has talked up his client's credentials.
"He is under contract until 2022 and I don't think his work is finished [at Liverpool] yet," Marc Kosicke told  Sport1 .
"But you have to bear in mind many factors. When you move to England, you cannot underestimate the lack of a winter break. This reduces your lifetime."
He added: "Coaching one of the big clubs in Europe isn't something that is unattractive, but everything has to suit. Yes, Bayern are looking for a coach in the summer, but Jurgen has a long contract. At the moment, Jurgen isn't thinking about coaching another club than the Reds.
"No coach in the world is bigger than any club. Generally, the club is always bigger. Jurgen isn't too big for Bayern Munich and Bayern Munich isn't too big for him. He definitely could do a very good job there. Bayern and Klopp would be a good fit, but it isn't something that is an option at the moment."
Kosicke has explained the reasons for Klopp never reaching the Allianz Arena, insisting that the timing was never right for the manager to make the move.
"I have to say that Bayern was often an option because Jurgen knows Uli Hoeness very well. But it was never the right time and nothing definite came of it," he added.
"Back then Franz Beckenbauer was president and the pair worked together as TV experts during the 2006 World Cup. They get on well and are still in contact. But Jurgen can definitely end his coaching career without having coached Bayern Munich."
Liverpool are currently third in the Premier League and will face Manchester City in the quarter-finals of the Champions League.