African All Stars
Christian Bassogog explains why he chose China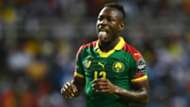 Cameroon international and Henan Jianye attacker Christian Bassogog has explained why he chose to ignore interest from Europe and move to China following his star showing in Gabon to join the improving and affluent Chinese Super League.
The Africa Cup of Nations MVP recently joined the ever-growing list of world superstars who are lured by clubs who spend huge amounts of money to bring them to the Asian country. His performances at the Afcon in January saw Jianye break the bank for his signature.
In moving to the CSL, he joins the likes of Oscar, Ramires, John Obi Mikel and Carlos Tevez, all of whom have opted for a switch to the Far East in recent times.
Africa is also growing their own strong contingent in the league, with the likes of Bassogog, Mikel, Gervinho, Odion Ighalo, Stephane Mbia and Papiss Cisse among some of the players already plying their trade in the country.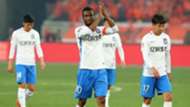 The 21-year-old winger says he's had to answer a lot of questions from his Indomitable Lions teammates about his decision to ignore a move to big Europeans leagues and move to China.
"A lot of their questions were based on whether I was coerced into going," he said, as reported by The Guardian. "One of the things I have done is make them understand that I chose to go there [China] because I believed in the challenge.
"Maybe, me going there is showing that it isn't all about what people think from the outside. Then, they ask me what it's like and whether it could be good for them, as well," he continued, "and one thing I have also understood from being in China is that they bring in the big signings to raise the level of their local talent.
"They are doing this for the good of the game in their country; it's not some misplaced thing. When I got to Henan Jianye, they made it clear that I was also there to lift the quality of those playing with me and against me.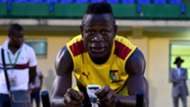 "There are many doubters and they are very vocal but a lot of people – myself included – form opinions of China from a distance. The truth is that, unless you are actually in it, you wouldn't really know what Chinese football is."
Despite admitting that lucrative contracts being offered to those willing to call China their new home was persuasive up to a point, Bassogog conceded that he intends to use the league as a stepping stone to becoming a big player and even return to Europe someday.
"That is of more interest and relevance to me," Bassogog added. "It is about rising to that challenge as a young player and knowing that, if I am successful in China, I would still be able to come to the very top levels of European football.
"I am a firm believer in the fact there isn't one path to making it to the top. Football is a truly global game and I have now played on four different continents. Who is to say that in the future I will not find myself in England, Spain or Germany?"
The former AaB and Wilmington Hammerheads attacker has already started two matches for the Red Devils, who remain winless after three matches.