Jadon Sancho
Barnes urges Sancho caution: Don't get carried away like we did with Walcott!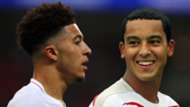 John Barnes believes England's fans have a role to play in the development of Jadon Sancho and has called for patience with the 18-year-old, who has recently broken into Gareth Southgate's squad.
The Liverpool legend earned 79 caps for England and was the country's leading winger for a time, but he has given a warning not to get carried away, despite the Three Lions reaching the World Cup and Nations League semi-finals.
Theo Walcott and Alex Oxlade-Chamberlain were both regarded as wonderkids having been called up to major tournaments in their teens, before earning criticism for not reaching the heights that some had initially hoped.
Barnes is therefore concerned that Sancho could end up going the same way, unless fans remain cautious about their side's chances.
"He has got great potential, we need to give him time to develop and improve and don't get carried away," Barnes told Goal . "Don't put too much pressure on him and say he is going to be the next best thing. It was the same with Theo Walcott and Alex Oxlade-Chamberlain.
"We say how great they are and then they don't realise their potential because we put too much pressure and expectation on them. He is a young player, who is doing well at the moment so let's not go overboard with saying how fantastic he is. Of course, he has great potential but let's give him time.
"He wasn't playing at a top English team so that's why he left to play for Dortmund. A German team, unfortunately in England we are not giving players like Sancho a chance in the top teams. He has to go abroad to do that. It has worked well for him.
"I would like to see top English players in top English teams but that isn't going to happen. It is an option to go abroad. It was a gamble, but it has worked out well for him."
England now await the draw for the Nations League semi-final following their impressive comeback against Croatia that booked their place in the finals in Portugal next year.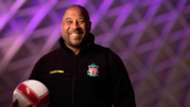 And Barnes believes Gareth Southgate has done well to get the supporters behind him and the time, although does not want to see expectations reach unrealistic levels.
"He has got good players and the players and the fans like him," he added. "The fans have a lot to do with it because in the past they haven't really got behind certain England managers or certain players in the England team.
"We have got this thing now with England when the team don't play well, the fans stick with us. It gives confidence to these young players, even when they don't play well in a game because the supporters believe they will show their true worth in the next game.
"They are a young team that needs experience, but they will grow and they have to be given time to grow and fail. It is no good coming down hard on them if they fail, and destroying their confidence. It is difficult to win the European Championship or World Cup because there are still teams better than us.
"We shouldn't be winning it, the expectation shouldn't be there. If it isn't there then the players can play with more freedom and maybe do something special. I hope expectation doesn't rise too high. I hope we stick together. If we have that harmony then we can be successful and the fans have a lot to do with giving their side the best chance."
Liverpool FC legend John Barnes was hosting a speed kick pop-up by Western Union at Kings Cross station in London. Western Union is holding the event to raise awareness of their zero transfer fees for transactions up to £50,000 to bank accounts across the world.