Leicester City
Stabbed in the back! Ranieri deserved better from Leicester's owners and players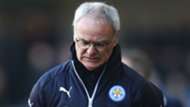 ---
COMMENT
---
Only last weekend, Claudio Ranieri called for his players to fight like "gladiators" to save Leicester City's season. What he got, instead, was scheming senators who secretly spoke with the club's owners on Thursday afternoon and demanded that their manager be sacked. Just a few hours later, Ranieri's remarkable reign was brought to a sudden and shocking end. Leicester's beloved emperor from Rome had been stabbed in the back.
To say that he deserved better is a massive understatement. As former Foxes striker Gary Lineker stated, "After all that Claudio Ranieri has done for Leicester City, to sack him now is inexplicable, unforgivable and gut-wrenchingly sad."
Rumours: Mancini to Leicester?
'Inexplicable' in that Ranieri has been dismissed on the back of a 'positive' result away to Sevilla, 'unforgivable' given what he achieved just 298 days ago, and 'gut-wrenchingly sad' because of what it says about the game today.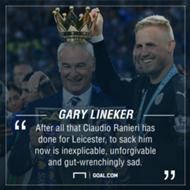 Indeed, Lineker "shed a tear for Claudio, for my club and for football." It is difficult not to be just as bewildered by a decision that offers the most conclusive evidence to date of the now almost total eradication of anything remotely noble or admirable about professional football.
There is no loyalty. No honour. No shame. And certainly no sense of perspective. It says it all that even Jose Mourinho feels comfortable occupying the moral high ground on the unscrupulous nature of the game today.
Leicester right to sack Ranieri
The man once branded "an enemy of football" wrote on Instagram: "CHAMPION OF ENGLAND and FIFA MANAGER of THE YEAR. Sacked. That's the new football, Claudio. Keep smiling, AMICO. Nobody can delete the history you wrote."
It was a classy touch from a man who has completely changed his stance towards a coach he once claimed was considered "a loser at Chelsea", underlining the way in which Ranieri won over even his staunchest critics with his remarkable exploits at the King Power Stadium.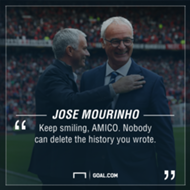 Even Lineker memorably greeted the news of his appointment as Leicester boss with the now infamous Tweet, "Claudio Ranieri? Seriously?" The former England international was only too happy to have been made look foolish by the Italian's subsequent success, even fulfilling his promise to present 'Match of the Day' in his underwear if Leicester pulled off the greatest title triumph in football history.
And that was the thing: Leicester made football fun again - and Ranieri played a colossal part in that. With his sincerity, wit and wonderful take on the English language, his interviews became must-watch TV. All the while, Leicester became everyone's second team, a true underdog story, a real-life fairytale that enchanted the entire sporting world. Reality always bites, though.
The Foxes' title triumph showed that money isn't yet everything; that dreams can still come through. However, his sacking offered a sharp reminder that football is now a business, run by unethical money-men with no understanding of the game and no regard for its followers.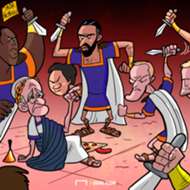 At Leicester, Ranieri proved that nice guys don't always finish last; that there are still decent people in football. The shame is that there is one less today.
When Ranieri was crowned 'FIFA Coach of the Year' in January, he humbly thanked "everyone at the club who had supported" him. "Without them," he said, "none of this would be possible." If only they had afforded him the same respect and gratitude.
Chelsea plot bid for Atletico's Oblak
Instead, less than a year after the sporting world rallied behind Ranieri's upstarts, many are now hoping that Leicester's ingrates go from champions to the Championship. The one consolation, perhaps, is that there is no chance of Ranieri going down with them.
Ranieri remains a winner. It is those who let him down who will forever be remembered as losers. Not that he will speak ill of those who went behind his back, of course. He is better than that. Ranieri has always conducted himself with class and humility - even in the face of bitter criticism and unfair ridicule.
He knows better than most that football is often as cruel as it is absurd. Mourinho need not fear, then. Ranieri may have been stabbed in the back by those he trusted the most but, just like another greater Roman leader, he understands that "Death smiles at us all; all a man can do is smile back."