Schalke 04
Baba answers questions on Chelsea, Schalke and Ghana amid season frustrations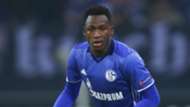 It has been some tough few years for Schalke 04 defender Baba Rahman.
On loan from Chelsea, the left-back has played only four games since picking up an injury while on international duty with Ghana at the 2017 Africa Cup of Nations.
Initially expected back in action after seven months, a series of relapses kept him in the treatroom until May this year when he played for Schalke as a second half substitute on the final matchday of the 2017-18 Bundesliga season.
By that, expectations were that the 24-year-old was going to be back in full gear from the start of the 2018-19 season.
Indeed, it looked so, when he started Schalke's opening games in both the League Cup and the Bundesliga this campaign. However, with just one more appearance thus far, there are concerns about the fitness of the Tamale-born, who has requested for some time away from international duty despite returning to action.
On Thursday, he took to Twitter to answer a series of questions in a Q&A session.
Below are some top picks:
Hey guys it's been a hectic year for me but today after training i feel good and blessed. Lets do a Q & A. Send me any question and i will answer when i get home. Let's catch up. pic.twitter.com/bfP0Am4gr5

— baba abdul-rahman (@babarahmangh) November 8, 2018
It's a horrible situation

— baba abdul-rahman (@babarahmangh) November 8, 2018
As it has always been from the beginning to recover first and help the team anytime i am given an opportunity.

— baba abdul-rahman (@babarahmangh) November 8, 2018
Every player would love to play at Chelsea

— baba abdul-rahman (@babarahmangh) November 8, 2018
Hazard

— baba abdul-rahman (@babarahmangh) November 8, 2018
football

— baba abdul-rahman (@babarahmangh) November 8, 2018
I have not even started with the Black Stars. Ones i am settled i am will be in a position to give it my all.

— baba abdul-rahman (@babarahmangh) November 8, 2018
fully recovered. thanks.

— baba abdul-rahman (@babarahmangh) November 8, 2018
One of the best teams in the World and possible of pulling off anything. It has always been a privilege to associated with the club

— baba abdul-rahman (@babarahmangh) November 8, 2018