Selangor v Negeri Sembilan
Azraai considering starting role for Thana at Negeri, hints at ASEAN import's future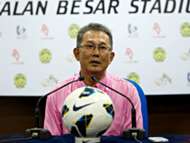 ---
BY        ZULHILMI ZAINAL       Follow on Twitter
---
Negeri Sembilan stay rooted to the bottom of the Malaysia Super League standings, following their 2-1 away defeat to Selangor on Saturday.
Speaking to the press after the match, Deers head coach Azraai Khor Abdullah said that the two sides were separated by the fact that the hosts had a good target man, while the visitors did not.
"We could match Selangor, with the goals we conceded happening due to lapses in concentration. Amri (Selangor veteran forward Amri Yahyah) coming from behind before cutting back led to the first goal, while their second was helped by a defensive error on our part.
"We tried coming back and praise Allah, we pulled one back through Thana's (forward Thanabalan Nadarajah) goal, but we couldn't find the equaliser," remarked the former Kedah coach.
He also pointed out another problem that they faced; which hinted at them signing new foreign strikers in the coming transfer window.
"You could see that we played without a big striker; a number 10 while we need a number nine. Selangor have Rufino (Segovia) who is helped by Amri behind him, and that's what we don't have currently.
"It is my hope that I get to sign a big striker in the transfer window. At least then we'd be more dangerous, unlike just now with Selangor defender (Willian Pacheco) towering over Flavio Beck constantly. We need to combine a number nine type with a number ten. At the moment, our passes to the front result in us losing possession most of the time," noted Azraai.
He also hinted on the future of their ASEAN quota player Prak Mony Udom's at the club, when asked by the press. The Cambodia international's name was missing from the matchday squad on Saturday, which also happened in their previous match, against Kelantan.
"He hasn't been performing as well as we liked. He used to be played on the flanks, and our local boys play better there than he does.
"To me, it's better that we give his place to the local players. If he's good then there's no issue, but that's not what has been happening," he pointed out.
But there were still a few positives from Negeri's performance on Saturday; one being Thanabalan's return to goal-scoring form. The Malaysia U-23 forward was brought on in the 61st minute and needed only two minutes to pull one back for his club, heading in a goal after outmanoeuvring the much taller Selangor centre back Pacheco.
Azraai has only praise for Thanabalan, and does not rule out giving him a bigger role at the side.
"He's experienced and has played at many levels, he will definitely get to play a bigger role. Previously he had fever and a groin injury, so he needed time to recover his fitness.
"With the way he played tonight, I will definitely consider him as a starter," promised Azraai.