Azpilicueta
'It hurts to be rested!' - Azpilicueta in good spirits as 74-game appearance record ends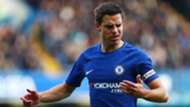 Cesar Azpilicueta has said it hurts to miss a game for Chelsea after his incredible run of 74 consecutive 90-minute appearances in the Premier League came to an end. 
Antonio Conte surprised many when he left Azpilicueta out against Swansea City as he rested him to be fresh to start against both Newcastle and Atletico Madrid. 
It was his first rest in league competition since 2015 and the Spaniard admitted that he was proud due to the difficulty of accomplishing such an impressive run. 
"Of course [it hurts]! I want to play every game," Azpilicueta said with a smile after Chelsea's 1-1 Champions League draw with Atletico Madrid. "We are a team. The manager makes the best decisions for the team, and it was important we won.
"It was a nice run. I never thought about the amount of games I played in a row, but I'm pleased because I know it's difficult."
Chelsea had 17 shots on goal against Atleti - with Alvaro Morata claiming seven of those - but they only managed a draw at Stamford Bridge, meaning Roma's 1-0 win against Qarabag saw the Italians secure top spot in Group C.
As such, the Blues will now get a more difficult draw in the next round of the competition.
Barcelona, Paris Saint-Germain and Besiktas are amongst the opposition that Chelsea can face, but Azpilicueta isn't too worried about his side's second-placed finish.
"I think after the performance [against Atleti] we deserved to win it, but we were not able to do it and now we have to be focused on the draw and who we play," he added.
"It's a bit of a difference but, honestly, when you go into the last 16 of the Champions League, you have to face big, big teams and we have to show our level.
"For now it's time to focus on the Premier League, on the Carabao Cup and FA Cup that we will start in January, and when the Champions League is back in February we will see how we are."
Chelsea will find out their Champions League opponents for the round of 16 at 11am on December 11 when UEFA conduct the draw.