FA Cup
Asri praises Negeri's team effort, Tuck happy with hat-trick
Zulhilmi Zainal and Nik Afiq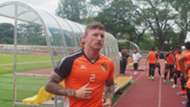 Negeri Sembilan head coach, Asri Ninggal praised his team's effort and teamwork after they stormed past Malaysia Super League (MSL) side Pulau Pinang 4-1 to advance to the quarter-finals of the FA Cup.
The third round game ended 1-1 in normal time after Nigel Dabingyaba and Marko Simic scored for their respective teams, but Lee Tuck's extra time hat-trick gave the Premier League leaders the win.
Speaking after the game, Asri said: "I think everybody played hard. We are the underdogs, but we complemented each other. Even though we have good foreigners, our local players also contributed a lot."
"When we lost the ball, we worked as a team to get it back. When we got the ball, we worked as a team as well so that is why we win tonight."
Asri however was quick to urge his team to keep improving on their weaknesses, and his aim is to improve their fitness for the rest of the season.
For hat-trick hero Lee Tuck, the English forward believed Negeri Sembilan had more desire to win as compared to their opponents.
"It was a very tight game in the first 90 minutes. Both team played well but I think we have the advantage because we were fitter and have more desire to win and in extra time, we were stronger."
Lee Tuck stated that this is his first time scoring a hat-trick in extra time, and it was a special moment for him and the club, as they have the target of winning every game.
"Every game is like a final to us. Last week we drew against UiTM (in the Premier League) and it felt like a lost to us because we have high standards for ourselves to win every game."
"The main goal is to get promotion and win as many trophies as possible," added the 28-year-old English forward.