World Cup
Argentina ambassador: World Cup in Russia safe despite threatening Messi poster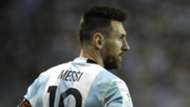 Argentina's ambassador to Russia has faith the host nation will "fully guarantee the safety of the World Cup" in the wake of a threatening poster issued by a pro-ISIS group.
The propaganda unit issued a threat on the World Cup this past weekend, accompanied by a poster of Argentina star Lionel Messi crying tears of blood.
Speaking to TyC Sports, Ricardo Lagorio expressed sympathy for Messi and optimism that Russia will ensure the tournament's safety next summer.
"The image is very strong," Lagoria said, as translated by ESPNFC. "The first thing I want to send is my support to Messi and his family because it's very unpleasant. He's the main person affected from this brutal and painful image.
"I have no doubt that the Russian government and the Russian federation will fully guarantee the safety of the World Cup, of the fans and of the tourists. I would like to call for calm and to ask people that will come from all over the world to do so without concerns."
Argentina, who qualified for the World Cup thanks to a Messi-inspired 3-1 win over Ecuador earlier this month, are set to travel to Russia for a pair of friendlies during the next international break: November 11 against Russia in Moscow and November 14 versus Nigeria in Krasnodar.
"For us, the World Cup begins on November 11 and it will start in peace," Lagorio said. "We have to call for calmness. The aim [of the threat] is to frighten people, but all the Argentinians that intend to come should come to the World Cup and do so without fear.
"I reiterate that the Russian government will guarantee the safest possible World Cup, where people can come without worrying about safety."
Lagorio pointed to this past summer's Confederations Cup, won by Germany in Russia, as evidence that the nation is capable of hosting such an event without safety concerns.
"We had the Confederations Cup take place and it was safe and everything went well," Lagorio said. "I'm very optimistic that the government will take the necessary measures so that everything runs smoothly."