MLS
Another goal barrage has Atlanta United looking like more than an expansion team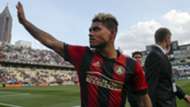 There has never been an MLS expansion team that has generated more buzz before taking the field than Atlanta United did this past winter. Some aggressive roster building, keyed by some smart and impressive designated player signings, coupled with the hiring of respected Argentine coach Gerardo Martino, had Atlanta shaping up to be a force in year one.
The squad looked good on paper, but making all that new talent work together would be a tricky task. At least, that was the prevailing skepticism.
Urruti sends a reminder to FC Dallas
That skepticism has started fading quickly with each flurry of goals, as Atlanta is showing all the qualities we thought might exist. Saturday's 4-0 thrashing of the Chicago Fire served as the latest evidence that Martino has put the pieces together faster than expected, and those designated players the club spent so much money on are looking to be worth every penny.
After three matches, Atlanta United has scored 12 goals and won twice, shaking off an MLS debut loss to the New York Red Bulls in a match in which you could argue Atlanta played the better soccer. Huge crowds have filled Bobby Dodd Stadium in Atlanta, and those new fans have been treated to attractive, attack-minded soccer and a relentless style that will overwhelm weaker opponents and seriously test even the best of teams.
Are we overreacting a bit? After all, last week's win came against a Minnesota United team that simply didn't look ready for prime time, and Saturday's win against the Chicago Fire came with the assistance of a first-half red card.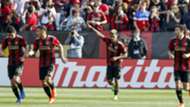 Sure, you could try to dismiss Atlanta's wins, but the reality is the quality on the field is clear to see. Whether it's Miguel Almiron's laser-like passes and uncanny vision or Josef Martinez's cat-quick runs and confident finishing. For three weeks now we have watched Atlanta play some of the most dynamic soccer in the league, an attractive brand it was supposed to take much longer to develop.
By no means is this team the finished product yet, and that should scare some people. More matches will only breed familiarity, and make Atlanta's already deadly attack even more dangerous. The defense is still a work in progress, but the pieces are there for a good unit, with fullbacks Greg Garza and Tyrone Mears looking like perfect fits for Martino's system, and Michael Parkhurst providing poise and experience.
Should we start chiseling Atlanta United's name on the MLS Cup trophy?
No, not quite. There's still plenty for Martino's men to work on, such as being able to manage the pace of a game. Good teams can slow things down just as easily as they speed them up, and only being able to thrive in one gear can limit you. That limitation proved costly in the season-opening loss to the Red Bulls, when Atlanta couldn't shift into a safer gear as New York pressed and took charge late for the win.
Atlanta's two games since that loss have been blowout victories, so we haven't had a chance to see if the team's game management has improved, but tougher challenges are on the horizon. A stretch of four straight road games will begin in two weeks, and that stretch includes visits to Seattle and Toronto. Those matches will provide a perfect challenge to show us just how good this Atlanta United team is.
One thing has become clear in the early weeks of 2017: this Atlanta United team is for real, and the goal of making the playoffs has gone from being ambitious to feeling like the bare minimum for a team that looks capable of exceeding its own lofty expectations.