MLS
Amid European links, Palmer-Brown takes fine form to MLS Homegrowns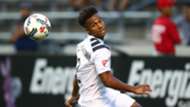 BRIDGEVIEW, Ill. — Erik Palmer-Brown was napping Sunday when his phone rang with a call from Sporting Kansas City executive Brian Bliss. It turned out the MLS Homegrown team needed a late reinforcement, and the 20-year-old defender had been summoned for his third appearance in the annual contest.
Exciting news? Yes — and no.
"I was still asleep and I was like, 'What? I'm moving tomorrow — I can't fly out,'" Palmer-Brown told Goal. "He was like, 'Well they called us, they need someone and you're going in.'"
MLS All-Star game a worthwhile quirk
The next thing Palmer-Brown knew, he was on FaceTime with U.S. Under-20 teammates — and fellow Homegrown selections — Tyler Adams and Justen Glad to discuss the news. Accommodating the center back's plans to move Monday, Sporting KC arranged for Palmer-Brown to fly in Tuesday — the day of the match against the Chivas U-20s.
And that evening, Palmer-Brown capped the whirlwind stretch by logging the second half of the Homegrowns' 2-2 comeback draw with Chivas.
"You have a blast just meeting all of the Homegrown guys," Palmer-Brown said. "Being able to play in this game, it's really fun to be involved in All-Star week and just take part of it. ... It's cool to play with the guys that have the same dreams and aspirations as you."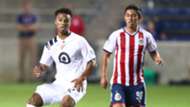 Palmer-Brown has been a renowned prospect in American soccer circles since Juventus reportedly bid for him in 2014, when he was just 16 years old. European rumors surfaced again this summer after Palmer-Brown captained the U.S. to the quarterfinals of the U-20 World Cup, with the likes of Ajax and Porto linked to the 6-foot-1 defender.
The quality that has garnered such attention was on display Wednesday, as Palmer-Brown offered class and confidence over his 45 minutes despite being thrust on the field with a group of players he had largely never trained with.
"He's definitely a great teammate to be with," said Philadelphia Union defender Auston Trusty, Palmer-Brown's teammate with the Homegrown side and U.S. U-20s. "He's a leader on the field and I think he communicates really well. Just having that solid piece in the back, along with me, along with everyone else, is really beneficial."
MLS Homegrown co-coach Brian McBride added: "Those are the qualities that a center back understands: when to step, when not to step. And then his calm under pressure is pretty impressive."
Although Palmer-Brown has earned plenty of buzz, first-team minutes have remained tough to come by. Entering this season, he had made just 10 appearances over three MLS campaigns. He spent 2016 on loan to Porto, regularly starting for the reserves without breaking into the first team.
But Palmer-Brown helped fill the void left by Matt Besler's call-up to the U.S. for the Gold Cup last month, appearing in Sporting KC's past three games — including a pair of starts.
"It's really important to get games, and it's really fun to be out there at Children's Mercy Park playing in front of the home fans," Palmer-Brown said. "It doesn't come often for young players, so when you get to play you hope to take advantage of it and never look back."