United States
Americans Abroad: McKennie sidelined six weeks while Chandler shines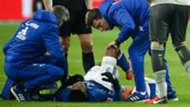 A rough week for most Americans Abroad got even rougher Sunday as highly-regarded teenager Weston McKennie came off with an injury in Schalke's 1-1 draw with Hannover.
McKennie did not start the contest, entering the proceedings for Bayern-bound Leon Goretzka in the 63rd minute. He would last less than a half hour on the field, as he collided with Hannover's Felix Klaus, banging knees. While McKennie would try to play through it, he would quickly be forced off in the 83rd minute. 
The midfielder headed for further tests with Schalke announcing Monday he had sustained a partial tear of his MCL. It is estimated he will miss six weeks.
McKennie joins good company on the sidelines. Fellow American in the Bundesliga John Brooks has yet to play since the second half of the season began as he battles toe and knee injuries. The defender last played for his club on Dec. 12.
Likewise, Fabian Johnson's back keeps him sidelined for Borussia Monchengladbach. The winger/fullback has not featured for his club since Nov. 25.
One American who did return from the trainer's table this past weekend was Christian Pulisic, who missed Borussia Dortmund's winter-break friendlies and their first game back in the Bundesliga. Pulisic's form appeared to be slightly rusty, however, and he did not make a huge impact in Dortmund's 1-1 draw with Hertha Berlin before coming off in the 85th minute.
---
Chandler continues hot streak with goal
---
While most Americans abroad have struggled in recent weeks, Timothy Chandler may have discovered his best form in years. 
The wing-back was at it again this past weekend against Wolfsburg. One week after notching an assist for Eintracht Frankfurt from the left wing-back spot, Chandler bagged his first goal of the Bundesliga campaign. It was the winner as his side walked away 3-1 victors away at the Volkswagen Arena.
Chandler was played in by an excellent low cross by Marius Wolf, and he blasted the opportunity into the roof of the net to give his side a 2-0 lead in the 22nd minute. Chandler would go until Eintracht went up 3-1 in the 85th minute, and was subbed off moments later. The team announced on Twitter post-match that Chandler had earned Man of the Match honors. 
Die @MainovaAG Energieleistung des 19. Spieltages geht an Timothy #Chandler.#WOBSGE pic.twitter.com/KiGP5tbVAq

— Eintracht Frankfurt (@Eintracht) January 20, 2018
Since returning from knee surgery near the end of the Bundesliga's first half of the season, Chandler has been lights out for Eintracht, with three assists and now a goal over that span. Those scoresheet contributions were his first of the Bundesliga campaign.
And Chandler has proven to be an asset because of his versatility. Usually used on the right side prior to his injury, the strong play of Wolf has prompted a recent switch to the left, where he's responded with two excellent performances.
"It's just not such a difficult thing whether it's right or left, because I can also play with my left foot," Chandler told Bundesliga.com after the game. "I think it's OK. I always play there where the coach needs me and sometimes he needs me in defense on the right, left or as a centre back so it's not a big deal for me.
"I always try my best and today I could score, which was important."
In some ways, Chandler's injury may have been a blessing in disguise for the club. Wolf came in and did well in Chandler's old spot. The club seems better with both in the lineup, as evidenced Saturday as Wolf had the assists on Eintracht's first two goals.
The goal also must have felt nice for Chandler, who had not scored in the Bundesliga since May 2015.
---
Wood benched before Gisdol sacked
---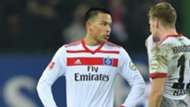 At the end of last season, Bobby Wood looked to have worked himself into a big part of Hamburg's present and future, after helping the club avoid its first-ever relegation from the Bundesliga.
Unfortunately, things have gone south for Wood in 2017-18. The 25-year-old has scored just once in the Bundesliga this season in 12 starts and two substitute appearances. He was dropped to the bench for a time earlier this year, only to work his way back into the starting XI. But Wood was back on the bench this past weekend when Hamburg fell 2-0 at home to Koln, a result that cost HSV boss Markus Gisdol his job. Wood came off the pine in the 66th minute, but as has been the case of late, failed to make an impact.
It's hard to blame Gisdol for Wood's drop to the bench. He's a striker who simply isn't scoring goals. There was a report during the week suggesting the team was discouraged by Wood's drop in work rate.
In fairness to Wood, he has been continually plagued by a knee injury which has dated back years but appears to have gotten worse as time has gone along. He missed the end of the first half of the Bundesliga campaign with the problem after seeming rejuvenated for a stretch playing underneath Jann-Fiete Arp and has not regained that form since the recurrance of the injury.
With Gisdol gone, a fresh set of eyes will be tasked with looking over the roster. That will provide opportunity for Wood, but only if he can find his form. If the goals don't come soon, it's hard to make an argument a return to being a regular in the XI should follow.
---
Carter-Vickers makes Ipswich loan switch, debut
---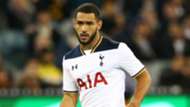 Cameron Carter-Vickers has seen a rapid reversal of fortune over the last few months.
The on-loan defender got off to a fast start with Championship side Sheffield United, doing so well that there were even rumors he would earn himself a recall from his parent club Tottenham.
However, Carter-Vickers saw his form fade drastically over the month of December and began to lose starts for the Blades. In January, Spurs recalled him from the loan with some question as to what the future would hold for him.
That answer did not take long to find, as Carter-Vickers was sent out to the Championship again, this time with Ipswich Town. It's a move that sees him drop from the sixth-place side to the 12th-place one, though that is just a gap of six points in the table.
What it does suggest is that Spurs were either unhappy with how Carter-Vickers was being used — often as the right center back in a three-man backline — or he had fallen so out of favor with the Blades coaching staff that he was unlikely to receive the playing time the Premier League club desired.
Interestingly, MLS may have played a role in this deal. Ipswich defender Tommy Smith is set to join the Colorado Rapids, according to the Championship club's website, and the need for extra cover on the back line likely helped facilitate a move.
Carter-Vickers did not have to wait long to get into action with his new team as he was thrown straight into the side this past weekend. He went the full 90 in 1-1 draw with Bolton and drew praise from his new manager Mick McCarthy.
"[Stephen Gleeson] was fantastic for us and Cameron did great as well," McCarthy said after the match. "I saw him play for Sheffield United at Bolton. I liked him then and he will get better for us as well."
Now it will be on Carter-Vickers to continue after that great start after falling off a bit with the Blades. 
---
Hyndman awaits Bournemouth decision
---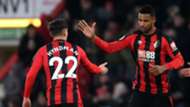 Emerson Hyndman's loan to Rangers of the Scottish Premiership in the second half of last season appeared to have put the young American on the path toward success.
But another injury set him back once more and the 21-year-old Hyndman has struggled to receive any playing time this season at his parent club of Bournemouth, despite previously strong support by manager Eddie Howe. He came on in the final moments of a Carabao Cup match, started an FA Cup clash and came on as a substitute in the replay which Bournemouth lost.
That has left questions about his fate, with interest rumored to extend from a trip back to Rangers, to their rival in Celtic, to a return stateside with MLS and a loan to Sunderland in the Championship.
However, it appears those decisions are not going to be coming for another 10 days or so, as Howe told the Daily Echo that the club will evaluate the squad closer to the end of the window.
"That's something we will look at towards the end of the window. I wouldn't close it off and say no but I wouldn't say yes, either," Howe told the Echo.
"We will make a decision taking into account the state of our squad at that time."
Howe also praised Hyndman's work this season, and his performance in the FA Cup matches.
"I think Emerson did really well against Wigan here and did very well when he came on the other day," Howe added.
"I'd love to give him more opportunities but that is difficult as the position he plays is one of our strongest in terms of numbers.
"I'm very pleased with the way he's attacked the season and how well he has done behind the scenes, so we will make the right decision for Emerson."