Liga MX
America falters without attacking stars, Morelia's playoff potential and more from Liga MX Jornada 14
The end of Jornada 14 of the Liga MX Apertura capped a grueling stretch coming out of October's international break for club teams, one that left nearly no team unscathed. 
Ready for the list of teams that didn't lose during the last three rounds of matches?
Morelia.
That's it. Monterrey took its first loss of the season, Leon saw its six-match winning streak come to a close and Club America fell Saturday to Necaxa. 
Let's start with Las Aguilas' defeat, then take a look at the big stories as teams finally get a day or two of rest before preparing for the home stretch of the season:
---
America attack falters without stars
---

Managers had to make difficult decisions during the three-match stretch out of the international break, but America coach Miguel Herrera's choice wasn't all that hard. He had a visit to Cruz Azul across town, the Clasico Nacional and then Necaxa's return to the Estadio Azteca to deal with. While losing to former America coach Nacho Ambriz's Necaxa side 1-0 was not the best scenario, it was better than dropping either of the other matches.
Herrera's choice to rest red-hot attackers Darwin Quintero and Oribe Peralta, then, is understandable even if it sunk Las Aguilas. The team improved considerably when Quintero came on for the final half hour, though by the time Peralta entered for his cameo Necaxa has started to turn the tide back in its favor.
"We had to rest people," Herrera said after the match. "Darwin and Oribe were really tired and we had to carry out rotations to see the rest of the players. We started with a team we thought could resolve this and it couldn't. We made changes. We didn't score today and unfortunately we ended up with a defeat."
The lack of attacking depth may be a small worry for Herrera. Silvio Romero still doesn't look anything like the player he did when he first arrived to the club, and while they'd struggled in recent weeks Necaxa's defense has been quality for the majority of the season. Overall, America still sits second, still has a strong attack and still will believe it can challenge for another title.
#NoTeLoPierdas
G⚽⚽⚽L de Luis Pérez@ClubAmerica 0-1 @ClubNecaxa #J14AP2017 #LIGABancomerMX
⚽ #SienteTuLiga ⚽ #TuVidaNoEsUnJuego pic.twitter.com/Gtu39vhNar

— LIGA Bancomer MX (@LIGABancomerMX) October 22, 2017
It will be fascinating to watch whether Ambriz can use this victory, which Necaxa needed to stay in the playoff positions, to galvanize his team after a listless return from the international break.  
---
Morelia a postseason problem
---

As mentioned above, Morelia was improbably the only team to get through all three matches after the international break without tasting defeat, beating Chivas and Atlas before Friday's scoreless draw with Leon. Morelia had a quirky, built-in benefit with the rescheduled week keeping it in the same city. After defeating Chivas, Morelia already was in Guadalajara and able to prepare for the midweek match while home side Atlas had a Sunday game way north in Torreon.
While that was advantageous, Morelia still finished off both Guadalajara teams and kept a Leon team that has been attacking well from scoring. Manager Roberto Hernandez has built a side that not only is on a trajectory to make the playoffs, but one that teams won't be eager to face. HIs defense, helmed by Ecuador veteran Gabriel Achilier, has conceded only 14 goals this season. Morelia fought off summer transfer offers for Raul Ruidiaz, and the Peruvian forward has been getting assists both literally and figuratively from No. 10 Diego Valdes.
Even after the solid showings, Hernandez continues to demand more from his team. "This was like a Liguilla match," he said after the weekend draw. "We should win against these kinds of opponents if we want to be there. We should've gotten the other two points today. It delays our arrival in the next phase for the moment, but we should win and I think we'll be able to get in the postseason."
Fans of other teams will be eager to avoid some of the big-name sides, but other managers may be more concerned about coming up against Hernandez's men.
---
Monterrey back in driver's seat
---

The alarm bells sounded and then faded. This was only a test.
Monterrey's loss to lowly Puebla during the week raised plenty of eyebrows, but the now one-loss Rayados got quickly back to work with a 1-0 win Sunday over Pumas.
Aviles Hurtado scored the goal in a very Monterrey way. He ended up on the end of a long ball and looked to set up a teammate but his pass was sent back in his direction. Hurtado had a go himself and was able to put the dagger into resurgent Pumas.
#NoTeLoPierdas
G⚽⚽⚽L de Avilés Hurtado@PumasMX 0-1 @Rayados#J14AP2017 #LIGABancomerMX
⚽ #SienteTuLiga ⚽ #TuVidaNoEsUnJuego pic.twitter.com/yjR6PMltWX

— LIGA Bancomer MX (@LIGABancomerMX) October 22, 2017
"We're all very committed. The intensity never has lowered," Hurtado said after the contest. "The Puebla game was a disaster for all of us and today we reset."
With America's loss, Monterrey is back to a four-point cushion atop the league and has played one fewer game than America and most other teams thanks to the postponed contest with Santos Laguna that will be played during the November international window.
The win Sunday also clinched Monterrey's qualification to the Liguilla. The defeat to Puebla never looked like anything other than a simple hiccup for a very good team, but Rayados grinding out a win in the capital confirmed it.
---
Last place a lonely space
---

Queretaro fell into last place with a 2-1 home loss to Santos Laguna and Chivas' triumph over Veracruz. That spelled the end for Jaime "Jimmy" Lozano as coach, as the club replaced him with Luis Fernando Tena and also bid farewell to two directors on the sporting side of the front office.
Lozano's dismissal is disappointing in the sense that it's another young, Mexican manager who showed promise and enthusiasm upon appointment but was unable to deliver with results. It's difficult for clubs to get out of the cycle of hiring familiar, usually old, managers when the new guys aren't able to adapt. Lozano's strong work with Queretaro's youth system might see him get another shot at a head coaching gig in the future, however.
While it's too bad on a macro scale that Lozano is gone, hitting the bottom of the league is a pretty safe trigger for bidding farewell to a coach and on the micro level Queretaro fans won't miss Lozano too much. The Gallos Blancos' last victory is a distant memory, coming all the way back on Aug. 12. That's a 12-match winless spell across all competitions. Lozano may have thought this week's Copa MX match would give him a bit more time, but clearly the directors' patience had run out.
Lozano's firing also follows a (totally rational and understandable) trend. Leon also sent a coach (Javier Torrente) packing when it hit rock bottom as did Puebla with Rafael Torres while the penultimate place was enough for Santos Laguna to fire Chepo de la Torre. Pumas even changed interim managers after hitting the basement. Only Tijuana's Eduardo Coudet and Chivas' Matias Almeyda have survived after seeing the "18" next to their team's name. 
---
Playoff race running normally
---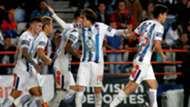 Cruz Azul currently sits in the eighth and final playoff spot with 21 points. Atlas is just behind (with one fewer match played) on 19. Tijuana trails them with 18.
The cutoff for the final playoff spot has been 24, 26, 24 and 27 in the last four tournaments, meaning we're just about where we usually are in the playoff race. We're also at the typical level of congestion. There are still four teams outside the top eight who can harbor quasi-legitimate hopes at making the postseason.
Teams are starting to feel the stress. Cruz Azul failing to make the playoffs after its long undefeated run to start the season would be an abject failure for a "grande" and Paco Jemez was a bit combative after his side's 3-0 defeat to Lobos BUAP. Atlas is making a late charge both for the playoffs and to move out of the relegation spot. Tijuana finished atop the league both of the previous tournaments and wants to extend Eduardo Coudet's first season. Even Pachuca, which beat Puebla 1-0 this weekend, is within striking distance despite its lackadaisical season. 
It will be a wild close to the regular season, as it almost always is.
---
Goal of the Week
---
G⚽⚽⚽⚽⚽L de Queretaro F.C. GOLAAAZO de Camilo Sanvezzo quien desde el costado derecho del área saca disparo de tres dedos que se anida en las redes para el empate 1-1 ante Club Santos #J14AP2017 LIGA Bancomer MX ⚽ #SienteTuLiga ⚽ #TuVidaNoEsUnJuego #AbrazadosPorElFutbol

Posted by LIGA Bancomer MX on Saturday, October 21, 2017
It didn't save his manager's job but this cutting effort by Camilo was enough to take our Goal of the Week prize. (Prize is not monetary.)