Bayern München
Allianz Junior Football Camp 2017: Your chance to train at FC Bayern Munich academy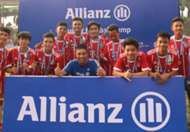 The 9th edition of the Allianz Junior Football Camp (AJFC) is here, led by former Bayern Munich star GiovaneElber, offering talented teenagers a 'once-in-a-lifetime' opportunity to train at the facilities of the German champions in Munich, Germany. 
The AJFC program was started in 2009 by German insurance company Allianz in partnership with the Die Roten as part of their dedication to youth development. 
Leading the program in Asia is Giovane Elber, who has scored close to 100 goals for Bayern during his six-year stint with them, who will hold special coaching clinics during the camp.  
Talented kids between the ages 14-16 are selected in the initial stage of the selection process from seven countries in Asia and are then invited to Bali for the final camp, which will be held between 31st July 2017 and 4th August 2017.
The camp involves a four-day football training programme on fitness workshops, footwork techniques and tactical skills by trainers from FC Bayern Munich. They will have an exclusive opportunity to train with Bayern Munich youth coach Maximilian Knauer and GiovaneElber. 
The first stage selection process has already been held at Jakarta (Indonesia) on July 8th.
"If we look at this year there is a growth of the number of participants compared to last year's data, this year's participants are up to 20 percent," said Karin Zulkarnaen, Head of Market Management at Allianz Indonesia, during the event at Mabak Blok M. Field. 
Elber was effusive in highlighting the importance of the event and said, "Allianz is doing the right thing by holding this event because they have opened up opportunities for all parties."
The Thailand event is being held in Bangkok today with the Malaysian final on Saturday 15th July.