South Africa
Alejandro Heredia: Caio Marcelo won't struggle at Orlando Pirates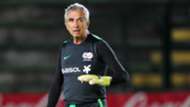 Former Bafana Bafana goalkeeper coach Alejandro 'Alex' Heredia says it is good to see Premier Soccer League (PSL) clubs scouting for players in South America.
However, he reckons that only the best must be brought in to the local game and has urged the PSL clubs to consider youth structures when looking for talent.
"I think it is good to have foreign players in every league. Look, there are many foreign players in every league around the world," Heredia told Goal.
"In every league, foreign players are needed, but I would also like to see only the best scouted and brought into the PSL," he reacted.
"South America has good, technically gifted players and I am sure they can contribute anywhere in the world, but the local clubs must only bring the best," said the coach, who worked under Alberto Parreira at Bafana.
"My point is that South Africa has talent and many players are not getting enough chances because foreign players are scouted," he added.
"There is nothing wrong with that, but I would also like to see the clubs considering youth development and ensuring that they develop their own than to always going in the market to buy players," said the Argentine-born mentor.
"The South Americans are good. They have passing, dribbling skills and the ability to move with speed, but these must be players who can leave a legacy in the PSL because we must not forget about development and we must be careful not to kill local players who have a potential of making it at big stages," said Heredia.
The former Bafana goalkeeper coach, who worked with the likes Ronwen Williams and Itumeleng Khune under a number of coaches such as Pitso Mosimane, Gordon Igesund and Stuart Baxter, believes football is a universal language.
He referred to players such as Kaizer Chiefs' Leonardo Castro, Mamelodi Sundowns defender Ricardo Nascimento and Gaston Sirino, who are struggling with their English, but said the clubs must also help these players to learn and adapt quickly.
The man who is busy developing goalkeepers at his academy known as Alex Heredia Goalkeepers Area, was speaking to Goal after Orlando Pirates announced their new Brazilian defender Caio Marcelo.
Although he said he is yet to see the 20-year-old defender, he added that the new Buccaneers centre-back will not struggle in Johannesburg.
"I have not watched the boy, but I am sure he will not really struggle in the PSL because football is the same around the world," he predicted.
"Look, there are many players going to China and I am confident not all of them are fluent in speaking Chinese," he said when asked about the language barrier.
"I am trying to say even if they struggle to communicate with their teammates off the field, football remains a global language and it should be easy to communicate and take instructions from the coach," said the 61-year-old.
"The likes of Sirino, Nascimento, Castro are improving on a daily basis and Jose Torrealba struggled, but he improved," he responded.
In addition, the former SuperSport United goalkeeper coach has not ruled out the possibility of seeing more South American players coming to ply their trade in South Africa, saying the their style of play is similar.
"Look, in my opinion Southern African football is similar to the one in South America, and that makes it easy for these players to adapt here," continued Heredia.
"They can dribble, pass the ball, change or dictate the pace of the game, and that makes it easier to understand the PSL game and we cannot say the same about players from Europe," he reacted.
"I am not saying players from Europe are not good or less gifted, but we look at players such as James Keene at SuperSport, Roland Putsche at Cape Town City and many others – they are great players," he noted.
"But my argument is that clubs in Europe and players are used to playing long balls and that is a bit different here and it is why South American players get to adjust quickly here," said Heredia.
"I am sure there will be more numbers from the South American countries coming to the PSL, but I hope these players and the clubs don't forget about development and local players because that is how we will develop the national team," concluded the goalkeeper coach.