India
AIFF Election Row: Former India captain Bhaskar Ganguly appointed as AIFF ombudsman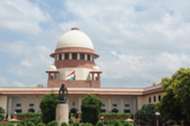 Apex court of India chose the safe pair of hands of former Indian goal-keeper and captain Bhaskar Ganguly as the ombudsman to formulate the AIFF constitution within eight weeks. He will be working with S.Y. Qureshi, former Chief Election Commissioner of India, who has also served as Secretary in the Union Ministry of Sports and Youth Affairs. 
The highest judicial body of the country stayed the order of the Delhi High Court reinstating all AIFF elected committees to function on a regular basis. This ensures that Praful Patel, who has been serving his third tenure of AIFF presidency, will continue to hold office along with the existing executive committee.
Immediately after the court order was released, Ganguly was contacted by Goal but he refused to comment on this issue until he receives the court order after which he will hold a press conference on Monday.
Ganguly had donned the colours of both Mohun Bagan and East Bengal during his career as well as led the Indian football team in the Asian Games in 1982, held in New Delhi.