Malaysia Cup
Aidil heralds new start for JDT in Malaysia Cup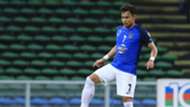 JDT had already lost three times in the group stage prior to the final match against MIFA yesterday and two of those came in the away matches to Kedah and Kelantan respectively. Hence, despite the final scoreline of 0-3 achieved against MIFA, there were a lot of pressure riding in the match at Shah Alam Stadium.
Picking up the first away win in the competition this season, it felt like a new start for JDT and it many ways that was the case for the defence as well. Marcos Antonio has started in each of the previous five matches but was not selected this time around.
JDT have gone with the Antonio and Fadhli Shas partnership for the first three matches before Aidil Zafuan came in for the latter in the return fixtures in the group. But against MIFA on Sunday was the first time in the competition that Aidil was played alongside Fadhli as they kept only JDT's second clean sheet in the competition.
"The win tonight was important for us because we want to go further. In the first half, it was hard for us because we didn't convert the chances we had. But once we got the first goal, the second and third goals came easily."
"The players gave their best tonight and we controlled the match throughout. Now is perhaps a new start for us to defend this trophy but we cannot take it easy in the next game against Pahang. Hopefully we can take this form into the next game," said Aidil after the match.
It would not have been an easy match for Aidil and his team mates. From the pressure of knowing that nothing but a win will take them through to the next stage and worrying about the state of health of one of their team mates who was knocked out cold during the match, only serves to add on to the pressure.
Fernando Marquez suffered a serious injury and for a moment was unconscious, needing immediate medical attention. The Argentine was rushed to the hospital straight from the pitch but has since been diagnosed to be stable despite a broken nose.
"This win is for him (Marquez). I saw him really wanted to continue even though he was bleeding profusely. So we wanted to do the best for him and in the end, we did," added Aidil.