PSL
African Legend of the Week: Pitso Mosimane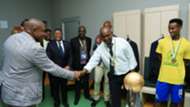 ---
COMMENT    By Ernest Makhaya    

Follow on Twitter
---
Pitso Mosimane is remembered by many as a coach who failed dismally during his two-year stint with the South African senior national team between 2010 and 2012, but in his country of birth, he remains one of the most highly rated football personalities  – both as a head coach and player - after a glorious career.
In light of Mamelodi Sundowns' recent continental success, Goal celebrate the head coach who made it all possible.
---
THE PLAYER
---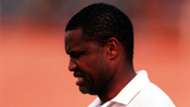 Born and bred in Soweto, Mosimane started playing football at a very young age, and after some impressive performances in the amateur ranks,  was recruited by Jomo Sono and Stanley "Screamer" Tshabalala to join Jomo Cosmos at the age of 18.
Mosimane was a prolific striker who used both feet to score goals. He was one of the pacy hitmen who played his heart out every time he took to the pitch.
He had a football brain, and gave defenders a headache with his off-the-ball movements, and consistently proved himself to be a passionate striker who was not afraid to take shots from range.  
Mosimane wasn't much of a dribbling wizard, but he could use the ball well and hardly lost it in the final third. It didn't come as a surprise when he became the most expensive player in the league following his transfer from Jomo Cosmos to Sundowns in the mid-80's. 
He also turned out for Orlando Pirates before moving to Greek side Ionikos where he spent six years between 1989 and 1995.  
---
THE COACH
---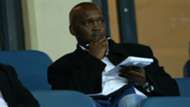 Mosimane started his professional coaching career in 1999 after three years in the amateur ranks. He joined SuperSport United as an assistant to Bruce Grobbelaar.
He was given the job on July 1 2001 and went on to become one of the most successful coaches in the history of the club.
Mosimane tasted success very early in his career as he finished in second on the Premier Soccer League log twice in successive seasons between 2001 and 2003.
He also reached a few cup finals, including the SAA Supa8 and the Absa Cup, which the Tshwane outfit won in 2004 and 2005 respectively.
Jingles, as he's affectionately known, was then asked to help the national team (Bafana Bafana) as an assistant coach to the late Ted Dumitru ahead of the 2006 Africa Cup of Nations in Egypt. A year later, Mosimane left United to take up the assistant coaching job on a permanent basis.
After spending some time as an assistant coach, Mosimane was given the chance to coach Bafana Bafana in 2010, but he would fail to qualify for the 2012 Afcon tournament.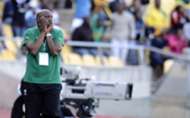 However, he still kept his job as the South African Football Association (Safa) believed he was still the right man for the job. They would later change their mind about Mosimane following Bafana's 1-1 draw against Ethiopia in the 2014 Fifa World Cup qualifiers.
Mosimane's contract was terminated after two qualifying matches. He spent six months in the wilderness as no one wanted to take the risk by hiring him given his 'failures' at the time.
Sundowns took a gamble, and appointed him as their head coach when they were sitting in the bottom of the table at the end of 2012. He helped them survive relegation and the following season, they were back on top and challenging for honours.
In his second season in charge, Mosimane won the league title with Downs. He won lifted the Nedbank Cup trophy a year later before winning a league and cup double in his third season with the Brazilians.
This was followed by another league title, the Telkom Knockout Cup and Caf Champions League in 2016; becoming the first South African coach to win the continental crown.
He guided Sundowns to another continental crown – the Caf Super Cup – in February this year, edging out TP Mazembe 1-0 in Tshwane.  
---
THE MAN
---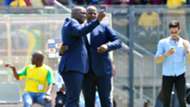 Mosimane is media-shy and hardly in the news for wrong reasons. Even during his battle with Safa over his dismissal, the Kagiso-born mentor never spoke to the press, but instead left everything to his lawyers.
He initially took Safa to court, but the parties would later settle out of court, receiving a handshake which was believed to be around R10-million.
Moismane is a family man and a Christian who belongs to the famous Zion Christian Church. He seldom goes to church on Sundays due to his work commitments.
---
CLUB HONOURS
---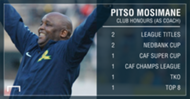 Mosimane played a huge role as Jomo Cosmos won their only South African league title in 1987. He also won a league title and cup double with Sundowns in 1988 before returning to Ezenkosi in 1989.
While on the books of Greek second division side Ionikos during the 1994/95 season, Mosimane won a trophy and later moved to Rita Berlaar before retiring Al-Sadd in 1996.
As a coach, Mosimane has won all domestic trophies in South Africa, including the Top8 and South Africa's FA Cup (Nedbank Cup) twice. He recently won the Caf Champions League and Caf Super Cup titles with Sundowns.     
He also led the Brazilians at the 2016 Fifa Club World Cup in Japan, finishing sixth after losing two games at the tournament.
---
COUNTRY HONOURS
---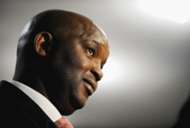 Despite being a great player during his playing days, Mosimane was never really given the chance at the national team level. He won four caps with Bafana between 1993 and 1994.
He netted his only international goal on his debut against Mauritius under then-coach Augusto Palacios. 
However, he's one of the few former Bafana players to have coached the senior national team and also led the South African Olympic team at the 2 Nations tournament in France. It was a huge honour for a player as underrated as Mosimane during his playing days.  
---
INDIVIDUAL HONOURS
---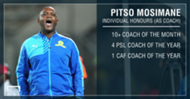 Mosimane won four PSL Coach of the Year awards – two each with SuperSport United and Mamelodi Sundowns, and more than 10 PSL Coach of the Month accolades – many of those which came in the last four years with the reigning African champions.
He was recently crowned Caf Coach of the Year for 2016, becoming the first South African coach to win the continental accolade following his success with Sundowns.  
---
THEY SAID
---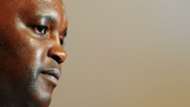 "I don't know how to celebrate when I beat Cosmos. It's emotional playing against Bra J. He is the one who made me who I am," said Mosimane after facing his former coach.
"I wouldn't have been standing here today talking to you if he didn't come to my school and fetched me to play for him."
"I have achieved everything I have in football because he believed in me," Mosimane added.
Jomo Sono admitted in one of his recent interviews that Mosimane is very arrogant, but blamed himself for the coach's arrogance, saying he inherited that from him from when they worked together at Jomo Cosmos. 
"Look, Pitso has always shown potential in coaching back from 2001 where he took over as a head coach from assistant role at Supersport," Sono said.

"Pitso has done very well so far as a young coach. He is a workaholic and very arrogant, but he has unfortunately inherited the arrogance from me (laughing), because he is one of my products (as a player)," added Sono.