KPL
AFC Leopards start league-title campaign with victory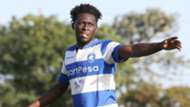 AFC Leopards beat KPL newcomers Nakumatt 3-0 in a league match played on Sunday at Thika Municipal Stadium.
Ghanaian striker Gilbert Fiamenyo, youngster Marcellus Ingotsi and Paul Kiongera scored one goal apiece to hand Ingwe the deserved victory. 
The Big Cats were surely in need of a win going by their show from the onset of the game with Whyvonne Isuza almost putting them in the lead in the first minute.
Duncan Otieno came closer again 15 minutes later but Nakumatt goalkeeper Sammy Okinda arose to save the situation.
Thika United 2-0 Tusker: Brewers fall AGAIN
It was push after push and attack after attack in the remaining minutes of the first stanza and as if the period was ending without any team's goal, Fiamenyo found the ball at prime place and he did not disappoint by drilling in a header to see Ingwe go to the breather 1-0 ahead.
On return, the Stewart Hall coached outfit were on fire with Paul Kiongera clearly showing intention of scoring. Ingotsi was introduced in the 75th minute and five minutes later, he dodged defenders to make it 2-0. 
Kiongera then wrapped it up in the dying minutes of the game with a goal which saw AFC Leopards walk out of the stadium jubilant counting their first day of action a success.
Nakumatt: Sammy Okinda, Sammy Meja, Eugene Ambulwa, John Njoroge, Kennedy Onyango, Peter Nzuki, Ronald Musana, Clinton Kisiavuki, Boniface Akenga, Kepha Aswani, Robert Omunuk.
Subs: Charles Ouma,  Cresten Mwanzo, David Naftali, Donald Mosoti, Erick Ochieng, Kelvin Thairu, Obadiah Ndege.
AFC Leopards: Ian Otieno, Robinson Kamura, Salim Abdalla,Joshua Mawira, Duncan Otieno, Mangoli Bernard(C), Dennis Shikhayi , Marcus Abwao , Whyvone Isuzza, Paul Kiongera , Fiamenyo Gilbert.
Subs: Andika Gabriel, Ramadhan Yakubu, Mao Ellias, Ingotsi Marcellus, Nyakha Haroun, Allan Katerrega.