KPL
AFC Leopards set to comply with the Sports Act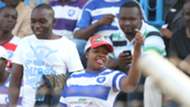 AFC Leopards is set to comply with Sports Act by the end of August, four years down the line since the Act came into being.
AFC Leopards' management is set to file the document with the Sports Registrar next week to comply with the Act that was signed into law by former President Mwai Kibaki in 2013.
Sports Act requires clubs and federations to registers a fresh with the Sports Registrar. Previously, clubs were registered under the Registrar of Societies.
"We expect to be done with this process by end of August after which we shall circulate the amended and approved Constitution to members," reads a statement signed by club Secretary General, Oscar Igaida and obtained by Goal.
AFC Leopards' executive committee made a number of changes to the constitution during the last AGM held in May to enable the club to comply with the Sports Act 2013 as required by the Law as well as Caf Club Licencing regulations.
The club admitted that one of the challenges that caused the delay in complying with the Act was getting the document done by the lawyers whom they owe a huge amount in unpaid bills for the work done over the last few years.
"We have solved this obstacle and now they (lawyers) have confirmed we shall be getting the document by end of this week."