KPL
AFC Leopards announce 2017 target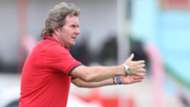 AFC Leopards head coach Stewart Hall has announced the club's target for 2017.
The Englishman is confident that Ingwe will never perform like they did in 2016 assuring fans that time for glory is here. His target for the first leg is to finish within the best five teams then better the position in the second leg.
AFC Leopards new catch happy with AllStars chance
"Our target for the first leg is to be in top five so that in the second leg we push for a better position. 13th position for a team like AFC Leopards is completely unacceptable. It cannot happen again," he said in a video published on the club's official social media accounts.
The former Azam FC coach feels that is new signings will make an impact explaining why he went for their signatures in the pre-season transfer window under what he explains as AFC Leopards' recruitment strategy.
"I want us to be the fittest team in 2016. I want every player to be ambitious with dreams of playing outside the country. You know, if you are happy with your salary in Kenya and happy with your life in Kenya then why should you work harder. This is why I don't want players who are happy.
Olunga pens emotional parting shot as he joins Hengfeng
"I want players who have desire and the best for us is young players. Quality talented young players with the hunger and desire then get them to the maximum in terms of fitness level and education of the game.
"I chased away 12 players with KPL experience and I have replaced them with seven players who have KPL experience. So you have to make up that number with young players. I have exactly done that and I know have 13 new players; seven with KPL experience and six without KPL experience."