AFC Asian Cup
AFC Asian Cup 2019: India's rivals make headway once again as Blues are caught napping
As the Indian Super League (ISL) heads for its first international break of the season, the senior Indian national team is all set to undergo a two-day camp in New Delhi in preparation for its friendly against China on October 13.
Stephen Constantine and his men are set to embark on a maiden voyage to China in what will be their only friendly game in the October FIFA international window.
There were reports of India taking on Saudi Arabia a few months earlier but it was cancelled and now they are set to play Jordan in November. But in the October and November international breaks, India are bafflingly playing just the one game. 
In contrast, each of India's three rivals in Group A of the 2019 AFC (Asian Football Confederation) Asian Cup will be playing two friendly matches in the October international window.
Hosts UAE will take on Honduras on October 11 before locking horns with the formidable Venezuela five days later.
Bahrain will also be in action on the same days as the UAE with clashes against Syria and Palestine at home.
Meanwhile, Thailand will take on Hong Kong in an away clash on October 11 before returning home to tussle with Trinidad and Tobago on October 14.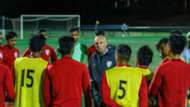 Even India's sole friendly opponents China will be playing two matches in the same window. Their clash against Constantine's men will be followed by another home friendly against Syria on October 16.
This is not the first time that India have been caught napping while their Group A rivals have made headway in their preparations for the 24-team tournament. During the September international window, India's U23 squad participated in the SAFF (South Asian Football Federation) Championship in Bangladesh while the senior team remained out of action.
During that same period, Bahrain and the UAE had both played two friendly matches each.
The rationale behind India scheduling only one friendly match during the October window remains a mystery. While the ISL is on in full swing, the argument that players run the risk of sustaining injuries due to over exertions does not wash away given that rival countries have their own domestic leagues ongoing at the same time.
UAE's Arabian Gulf League is currently ongoing along with the Bahraini Premier League. The Thai League held its final round of fixtures on Sunday yet the national team players will be required to take part in two international friendly games almost immediately.
Also, the scheduling of friendlies so late does not make for good reading. All India's rivals have a plan charted out well in advance while India are making it up as they go along. 
The importance of India's participation in Asia's biggest tournament for only the fourth time in history cannot be overstated. Hence, the governing body's seemingly cavalier approach towards the preparations for the same is baffling.
They have only recently seen what good preparation and planning can do to a team's confidence with India's U16 starlets narrowly missing out on a historic FIFA U17 World Cup qualification.
The contrast behind the preparations of the U16 and senior Indian teams has been stark and the governing body will have only themselves to blame if the latter is unable to put in a good showing in the AFC Asian Cup.