Paul Pogba
Adidas reveals new Predator 18+ to be worn by Pogba, Ozil & Dele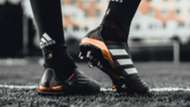 The Adidas Predator is back.
Adidas announced the release of the Predator 18+ on Wednesday, marking the return of one of the most iconic lines of football boots of all time.
The new models will be worn by the likes of Paul Pogba, Mesut Ozil, Ivan Rakitic and Dele Alli and will also be available as a cage football shoe and a sneaker.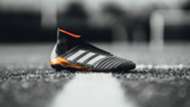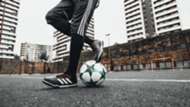 The Predator was put on sabbatical back in 2015 as Adidas introduced three new brands: the Nemeziz, the X and the Ace.
It will now make its comeback, though, in place of the Ace as the company releases its latest 'Skystalker' pack of boots.
The 18+ features a primeknit sockfit collar and is laceless with a layer of controlskin, which is said to provide optimal grip in any conditions.
"When designing the Predator 18+ we wanted to create the most innovative boot on the market while staying true to the very ethos of what made the Predator such an iconic boot," Adidas vice-president of design Sam Handy said. 
"We wanted to create a boot for those players who control the game through a killer touch or defence-splitting pass.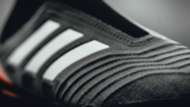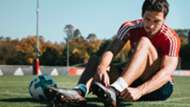 "The new Predator will provide athletes such as Paul Pogba and Dele Alli with the tools they need to maximise their own creativity, such as the introduction of a control skin and a new hybrid stud configuration to support the dynamic movement required for professional athletes."
The 18+ boot is black, white and gold, with elements of red on the cage boot and sneaker. Different colour combinations are likely to follow.
The Predator was made famous by the likes of Zinedine Zidane, Alessandro Del Piero and, most notably, David Beckham around the turn of the millennium.
It was first introduced back in 1995 based on an innovation by former Liverpool player Craig Johnston, who attached rubber fins to a leather boot to improve ball control.
Adidas bought the rights to the Predator from Johnston and oversaw innovations such as a tongue that fully covered the boot's laces and a strap that held it down.
The rubber strips also changed markedly over the years from the dominant feature of the design to a smaller, more calibrated strike zone.
You can see every edition of the Predator in Goal's history of the boot.