Africa Cup of Nations Qualification
Abraham Mebratu names Ethiopia provisional squad for Afcon qualifier against Sierra Leone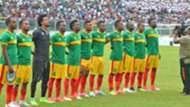 Ethiopia coach Abraham Mebratu has included only four foreign-based players in his 34-man provisional squad for next month's Afcon qualifier against Sierra Leone at home.
Midfielder Beneyam Belye of Albanian Superliga side KF Skenderbeu Korce headlines the squad whose three other foreign-based players all ply their trade in Egypt.
Petrojet midfielder Shimeles Bekele, El Gouna midfielder Gatoch Panomo and Oumed Oukri of Smouha SC have much expected from them coming in from the Egyptian Premier League.
The rest of Mebratu's men who play in the Ethiopian domestic league, including former Bidvest Wits striker Getaneh Kebede, are expected to report for camp in Hawassa on Tuesday.
Mebratu would then trim the squad to 23 players just before the final camp for the September 9 match as Ethiopia bid for a 10th Afcon appearance.
A tough task awaits new coach Mebratu, who was unveiled earlier this week as he inherits a team that lost 5-0 in their opening match against Ghana in Kumasi.
Provisional Squad:
Goalkeepers: Abel Mamo (Mekelakeya), Samson Asefa (Dire Dawa Ketema), Tekelemariam Shanko (Hawassa Ketema), Tsion Merede (ArbaMinch Ketema)
Defenders: Henok Adugna, Abdulkerim Mohammed, Salahdin Bargicho, Asechalew Tamene (Kidus Giorgis), Mujib Kassim, Solomon Habte, Amsalu Tilahun (Fasil Kenema), Addis Tesfaye (Mekelakeya), Awot GebreMikael (Ethio-Electric), Temesgen Castro, Ahmed Reshid (Ethiopia Bunna), Anteneh Tesfaye (Dire Dawa Ketema)
Midfielders: Gatoch Panomo (El Gouna/Egypt), Mulualem Mesfin, Natnael Zeleke (both from Kidus Giorgis), Amanuel Yohannes (Ethiopia Bunna), Bezabeh Meleyo (Fasil Kenema), Shimeles Bekele (Petrojet/Egypt), Canaan Markneh (Adama Ketema), Tafese Solomon (Hawassa Ketema), Beneyam Belye (KF Skenderbeu Korce/Albania)
Forwards: Getaneh Kebede (Unattached), Abel Yalew, Behailu Asefa(both from Kidus Giorgis), Addis Gidey (Sidama Bunna), Oumed Oukri (Smouha SC/Egypt), Dawa Hotessa (Adama Ketema), Abubakher Nessero (Ethiopia Bunna), Amanuel GebreMikael (Mekele Ketema), Israel Eshetu (Hawassa Ketema)