Abia Warriors
Abia Warriors were determined to atone for Kwara United thumping, says winger Amos Okoro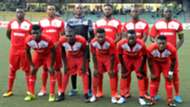 Abia Warriors' determination to bounce back from their Federation Cup Round of 16 opening defeat spurred them to secure a 2-1 comeback win over Kano Pillars, says winger Amos Okoro.
Emmanuel Deutsch's side were steamrolled 5-1 by Kwara United in their first Group C game but showed character to grind out a come-from-behind victory over the former Nigeria Professional Football League champions at the Agege Stadium on Wednesday.
"I'm very, very happy," Okoro told Goal.
"I don't even know if I was on this earth [after Kwara United loss] because of the way we lost the game and in the manner we conceded goals.
"We tried getting a goal but we got another red card, everyone was tired because it's not easy to play nine against 11.
 
"Our team just had the belief that we must win [Kano Pillars]. Before we came out, we concluded that no matter what we must win the game"
With Abia Warriors trailing by a Junior Lokosa deft finish before the interval, Okoro's second-half introduction proved the perfect stroke for Deutsch's side.
Asking several questions of Pillars' defence ended with Jimoh Oni and Emeka Isaac getting the all-important goals to put them in contention for one of the two quarterfinal slots for Group C.
 
"The coach said that their left-back, and all their defenders, are weak so I should just take them on that if I do so they must go back and won't be able to cope [with the pressure]," he revealed
"And that was exactly what I did; I took them on every occasion."
With the impressive Kwara already through to the quarterfinal, a win against Rivers United in the group decider and an unfavourable result for Pillars in their clash with the Harmony Boys is all is needed to completely turn a poor start on its head.
 
"We will try to win Rivers United and God will do it again," he said.
"I targeted goals and assists but none is yet to come but I thank God that all is well."