Leicester City
A star is torn? Keeping Mahrez must be Leicester's top priority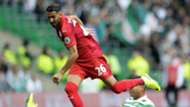 ---

COMMENT
---
The phrase 'the whole is greater than the sum of its parts' became synonymous with Leicester City as they battled their way to the Premier League title last term. But if we take that phrase at face value, we then have to assume that replacing a few of the cogs which help form the Foxes machine wouldn't cause much of an issue.
Team spirit, work ethic, fitness and so on are generally the buzz words and phrases that spring to mind when people are asked about the club's maiden top-flight title, but there's more to it than that.
Pull the leg off a fly and it'll buzz away into the sky, but remove a wing? For Leicester City, Jamie Vardy, N'Golo Kante and, most importantly at this juncture, Riyad Mahrez, were and are the club's wings.
---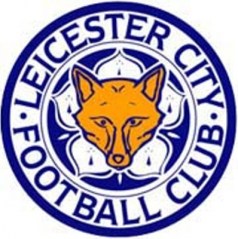 READ MORE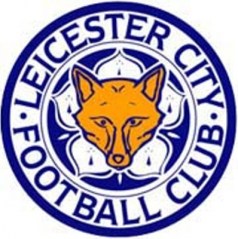 |
ICC: 
L
eicester defeat Scottish champions Celtic on penalties
---
Kante is gone and Claudio Ranieri's side are feeling the void. The Italian was right when he said the only thing new midfield signing Nampalys Mendy has in common with Kante, certainly at the moment, is that they share the same starting position. 
Mendy might grow into a world beater like his now Stamford Bridge-based countryman, but there'll a long way to go if he is to reach the same level.  Yes, he has only played one match so far and it's harsh to judge, but given how often Ranieri had to reposition the new acquisition with orders from the sidelines throughout the match against Celtic, it's clear that this is not a like-for-like replacement.
It's true that Leicester have strengthened in other areas, with new striker Ahmed Musa looking sharp if not quite on the same wavelength as his team-mates yet, while new goalkeeper Ron-Robert Zieler looks a steady hand and former Real Madrid youth Luis Hernandez appears tidy enough at centre-back.
And while Ranieri said in the build up to the ICC clash that the Foxes had lost Nigel Pearson and Esteban Cambiasso before the start of last season yet still improved enough to have won the Premier League, neither of those figures came close to offering the same precious output as one Riyad Mahrez.
Half fit and wandering up and down the line in typical, almost lazy-looking fashion, the Algerian was once again the difference as Leicester defeated the Scottish champions at Celtic Park. There was no Dirk Kuyt-style pressing, just sheer brilliance when it was needed.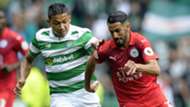 Time and again Mahrez found himself in the right place at the right time - and if his team-mates were half as naturally gifted as the 25-year-old himself, the numerous through-balls and crosses that he delivered might have been goals. But, as so often has been the case, it was the Algeria international who made something out of nothing when Leicester had been struggling to find a way through.
Shortly after the second half began, a haring run down the right was punctuated by a neat cut-back inside Celtic's box, which allowed the PFA Players' Player of the Year just enough time to curl a lavish left-footed effort into the top corner.
Brendan Rodgers's hosts did go on to find an equaliser - from the unlikeliest of sources in young centre-back Eoghan O'Connell - but the damage was already done. Mahrez's awesome strike was enough to see the game through to penalties and an eventual win for the English champions.
It's performances like Saturday's that make it imperative Leicester do everything in their power to hold on to their wing king. Players like Vardy, Kante and Mahrez are what makes a good team great; they have a unique presence and can change the course of a match with one clever move.
Indeed, it is because of those special traits that Mahrez is being linked with teams like Arsenal and Barcelona, but it is the very same attributes that dictate Claudio Ranieri simply cannot afford to lose another exceptional talent. If Leicester are to continue flying high, Mahrez must stay.