WTF
'A modern take on a true classic' - Adidas Predator 18 pushes boundaries of boot innovation once more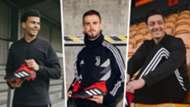 Such is the iconic status of the Adidas Predator football boots that mere mention of the words is enough to conjure images of David Beckham curling a free kick into the top corner or Zinedine Zidane firing a volley past a despairing goalkeeper. 
Honing in on crucial aspects of ball control and striking precision, the sportswear giant ceaselessly refined their flagship range from its first appearance in 1994 right through to the 2010s as it became the definitive brand for an entire generation of footballers.
A long list of stylish editions appeared on pitches around the world for two decades, from early versions such as the Accelerator and Mania to later incarnations of the Pulse and Instinct.
And now, nearly four years after the last release, the Adidas Predator has returned, with an entirely new feel, designed with a whole new cohort of footballers in mind.
Predator 18 was launched in August 2018 and Adidas taken inspiration from their traditional style, fusing the past with the future to create a product they hope will define a new era.
"Football has changed considerably since Predator's first introduction, both on and off the pitch," Robert Ashcroft, Adidas' category director, told Goal. 
"The demands are a lot higher now, consumer tastes have changed completely and playing styles have evolved. Innovation and materials have taken centre stage, so naturally the requirements of a football boot are a lot more complex."
The Predator 18 projects images of the past onto a modern canvas by combining the traditional colourway of black, red and white with the latest technology. 'PrimeKnit' and 'Controlskin' textiles form the basis of the boot and, while the form has changed, the core principle of enhancing ball manipulation endures.
"The game has become a lot faster, so lightweight has now become a pre-requisite across all boot types. The biggest challenge is ensuring we deliver innovative materials that give the relevant fit and support without compromising overall performance or weight," explains Ashcroft.
"From a design perspective all of our concepts are born from culture, they are built for purpose yet have to remain daringly simple in their execution. So the main challenge we face today is trying to find a balance between all of these key facets.
"With Predator 18 we feel we have delivered just that, a modern take on a true classic which meets all the demands of the modern game."
The 2018 World Cup in Russia was a prime example of how Adidas delved into the past in their recent endeavours, with the likes of Mexico, Colombia and Spain all sporting retro kits at the tournament. The relaunch of the Predator boot is part of this wave.
"Remixing the past and combining this with the future to maintain a specific product DNA which builds on its past and meets the demands of the modern game," says Ashcroft. 
"Predator has a very deep-rooted status in the word of football, representing some of the most iconic players and iconic moments over the past 25 years.
"We wanted to stay true to its roots and ensure we maintained a lot of that DNA in both our product design and also colour stories."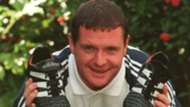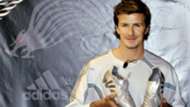 When the boots first appeared in the mid 1990s, the Adidas Predator range was, like most boots at the time, relatively plain, with black being the dominant colour tinged with white and a tiny smidge of red. Over the years, however, that has evolved, with footballers increasingly favouring vibrant colourways. 
Up until the 2000s it was rare to see a player at any level wearing something other than black leather boots, but fashion and football soon intertwined as individuals sought to cultivate an appearance that reflected their personalities, both on and off the pitch. Nowadays, plain black and white boots are a rarity.
"We understand that players have different needs, different playing styles and different mindsets, which is why we offer different product franchises and different colour combinations to meet all of those variables," explains Ashcroft. 
"Whilst playing styles have evolved, so have consumer tastes and what is deemed interesting or desirable. The Predator has been a huge catalyst of this change, gradually introducing a lot more colour in a time when black and white was seen as traditional and simply accepted as the norm.
"Given that the game has changed considerably and we now see a more diverse spectrum of playing styles and player types, there is a clear need to utilise a more diverse colour palette in order to further compliment these variables."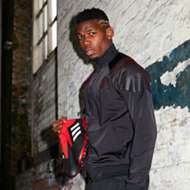 The likes of Manchester United's Paul Pogba, Juventus midfielder Miralem Pjanic and Tottenham star Dele Alli are among those to use the Predator 18 this season. 
But one man who won't be using them is Barcelona captain Lionel Messi, who wears the Adidas 'NEMEZIZ' - a range which has been tailored specifically for him.
"Being built for purpose is the foundation we use for all of our product concepts, so with that we understand there is a broad spectrum of player types who have different requirements and different playing styles," says Ashcroft.
"You only need to look at Messi on the pitch to see he has a playing style different to most and therefore will have different performance needs.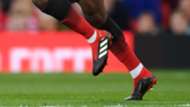 "Predator is designed to deliver 360-degree control, so it is aimed at those players who base a lot of their game on this aspect. It is not specific to a position on a field, but more specific to how they perform on pitch and the playing style they adopt.
"Mesut Ozil and Pogba are prime examples of this, both of them showcasing the ability and desire to constantly control the ball and dictate play, whether it be controlling the ball out of the air or playing that killer cross field pass that stretches a team and opens up a defence."
The latest in the Predator range is a continuation of Adidas' creative endeavour to disrupt norms on and off the pitch as they attempt to bring players' games to the next level. 
And, just as Beckham and Zidane helped to cement the boot as one of the most desirable styles on the market, the sportswear giant will be hopeful that Pogba et al can propel the Predator 18 to similar heights.
The Adidas Predator 18 is available to buy now at the official Adidas store or sports retailers everywhere.