Transfers
A €100m bid for Man Utd and Chelsea target Belotti likely to force transfer, admits Mihajlovic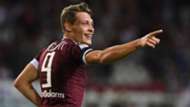 Sinisa Mihajlovic admits Torino will struggle to keep Andrea Belotti if bids are lodged for the reported Manchester United and Chelsea target.
The 23-year-old is expected to spark a transfer scramble when the window re-opens this summer.
'Belotti is better than Batistuta'
With 23 Serie A goals to his name this season, Belotti is a wanted man and a striker attracting admiring glances from across Europe.
Any move for him will not come cheap, with Torino hoping to see him stay, but Mihajlovic concedes that any bid which triggers a €100 million release clause will force the club's hand.
"Everyone loves Belotti for a very simple reason," the former Milan and Sampdoria boss told reporters.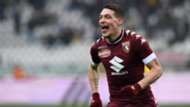 "Against Udinese, for example, he didn't waste time celebrating his equaliser, instead rushing to get the ball back to the centre so we could aim for a 3-2 victory.
"This attitude of his fires up the others and that is why he is appreciated not just by the Toro fans, but all those who love football. He's an old-fashioned centre-forward.
Belotti: I want to stay at Torino
"I think he'd like to stay, but there are many factors involved here. I certainly hope he'll stay here as long as I am the coach.
"If someone arrives that will pay the release clause, then there's nothing we can do to hold him back."
Belotti's 28-goal haul for club and country this season has included two hat-tricks and five braces.