Primera División
Luis Enrique & Andre Gomes out, Sampaoli in - How Barcelona must rebuild this summer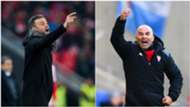 ---

COMMENT
---
Pep Guardiola once said, "The day I see the light go out in my players' eyes, I know it's time to go." In the Champions League on Tuesday evening, Luis Enrique looked on forlornly as his charges suffered a collective blackout against Paris Saint-Germain.
"I'm responsible for this," the beleaguered Barcelona boss admitted after the 4-0 drubbing at the Parc des Princes. Unsurprisingly, the media agreed wholeheartedly, with the Catalan press subjecting him to a rigorous post-match inquisition.
Two familiar charges were levelled at Luis Enrique: firstly, that his perceived lack of a 'Plan B' had again been brutally exposed; secondly, that he had failed to rouse a response out of his players.
The clearly agitated coach went on the offensive, stating that the negative tone used by one journalist, Jordi Grau of TV3 , was indicative of the media's long-standing lack of respect for everything the treble winner has achieved since taking charge in 2014.
"It looks like you didn't watch the game very closely," the Spaniard sniped, "because we went from a 4-3-3 to a 4-2-3-1, trying to change things and above all locking on to their players and getting Leo [Messi] inside more, with more freedom.
"We could've done handstands and [the lack of credit] would've been the same."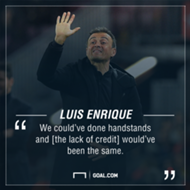 Amidst later reports that the Barcelona boss had to be restrained from confronting Grau after the press conference, it was clear that Luis Enrique has had enough of the demanding Catalan press. The feeling is definitely mutual.
More significantly, though, it seems that the often strained relationship between Luis Enrique and his players has also run its course.
Veteran midfielders Sergio Busquets and Andres Iniesta took issue with the suggestion that the team's "attitude" had betrayed a lack of faith in their coach, but even in defending Luis Enrique's powers of motivation, they damned his tactical approach.
"It's not a question of attitude, but of football," Sergio Busquets argued. "They pressed more and were better tactically."
Iniesta added, "The word 'attitude' is one I have never liked and I do not think it is linked to these players or this team. In the end, it is a matter of football. I do not like to talk about attitude when it is not [the reason for defeat]."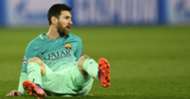 There is no denying, though, that the Blaugrana were out-thought and out-fought - and there is no excuse for both occurring on the same night. Not at Barca. The lack of aggression will not stand, not when the Catalans can no longer even claim the footballing high ground.
Indeed, many people associated with Barca - directors, clubs and journalists - believe that Luis Enrique has taken the club too far away from its possession-based philosophy, relying too heavily on the brilliance of the 'MSN' to win games.
It worked wonderfully well for a long time and was thus tolerated, but the current coach's more counter-attacking, even pragmatic coach is now being used as a stick with which to beat him.
PSG prove themselves UCL contenders
A summer parting of the ways, therefore, looks inevitable, with Luis Enrique's contract set to expire at the end of the season.
There are several suitable candidates to succeed a man who has won eight trophies in just under three seasons. Eusebio Sacristan has Real Sociedad fighting for a Champions League place and boasts the added appeal of having previously served as Barca's B team boss (just like Luis Enrique and Guardiola) and having been a Blaugrana player from 1987 to 1995.
The man most suited to the job, though, is Jorge Sampaoli, the Argentine who led Chile to Copa America success in 2015 and now has Sevilla fighting for the Liga title. However, what is more significant than what the Rojiblancos are doing, is the way they are doing it.
Indeed, Sampaoli would be welcomed with open arms at Camp Nou because no team in the world more resembles Guardiola's Barca than Sampaoli's Sevilla. They look after the ball when they have it, and fight desperately to win it back when they do not.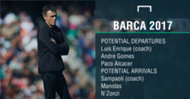 Of course, a new coach wouldn't help solve all of Barca's problems. The defence once again has to be looked at, with the Blaugrana having been left in the ridiculous position of having to play Sergi Roberto, a converted midfielder, at right-back against PSG due to Aleix Vidal's unavailability. He endured a torrid night in Paris and is clearly out of his depth in that role. Valencia's Portuguese international, Joao Cancelo, would make for an excellent addition.
Barca are also still in need of a dominant centre-half and it is imperative that they immediately revive their interest in Kostas Manolas, who is set to leave Roma this summer but has already agreed personal terms with Inter .
However, the Blaugrana have already missed the boat in terms of signing a worthy successor to Xavi, with Marco Verratti now firmly entrenched at the Parc des Princes. The events of Tuesday night will certainly have done nothing to weaken his belief that he has a better chance of winning the Champions League at PSG than Barca.
It is also doubtful whether they would be able to afford Verratti or a proven superstar, as well as fund Messi's new contract and the renovation of Camp Nou. This will complicate the rebuilding operation this summer, and will mean Barca will have to be creative in how they do their business and identify players who are not overpriced.
Ozil must prove he's not a big-game flop
Still, if Sampaoli could be lured away from Sevilla, it would make sense to try to take Steven N'Zonzi with him, particularly as it was made abundantly clear in Paris that Sergio Busquets' best days are behind him and that Andre Gomes is both a waste of space and money (right-back Sergi Roberto may as well have had nobody positioned in front of him such little protection was he offered).
Up front, Paco Alcacer is another horribly expensive signing that needs to be ditched, and while the 'MSN' remain untouchable, they are clearly in need of motivation, judging by the listless displays for Messi and Luis Suarez against PSG. Sampaoli's arrival would provide the requisite reinvigoration, as underlined by the fact that both Messi and Neymar have previously tried to persuade the 56-year-old to take charge of their respective national teams.
Essentially, Sampaoli for Luis Enrique is the switch that Barca need to flick to turn the lights back on in their players' eyes.