Goal United
Zlat's all, folks! Ibrahimovic's Sweden career ends in defeat, not disappointment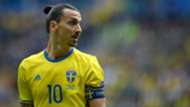 Like every other Swede of his generation, Zlatan Ibrahimovic fell in love with international football during the summer of 1994. He was watching on intently as the land of birth took on Brazil in Pasadena in the semi-finals of the World Cup. Only Ibrahimovic wasn't supporting Sweden. Indeed, he had only tuned in because they were facing Brazil. "I did not watch Sweden; I never watched Sweden," Ibrahimovic admitted in 2012. "But I loved Brazil because they were something different."
Zlatan has always been something different - on and off the field. Raised in a notoriously rough neighbourhood in Malmo by a Bosnian-Muslim father and Croatian-Catholic mother, Ibrahimovic never felt particularly Swedish. He was an outsider. Growing up, it sometimes seemed as if Sweden didn't want him. At times, he didn't want Sweden. At two separate points during his international career, he turned his back on his country.
In 2008, he petulantly sat out three games after being enraged by Lars Lagerback's decision to send him home for breaking a curfew before a European Championship qualifier to frequent a nightclub, while a couple of years later he decided to take a break from the international game because Sweden had failed to make the 2010 World Cup.
"It has always been a great honour but, for the time being, I won't play for the national team because I am not motivated," he explained. "There are no important matches or the World Cup and so it's very difficult. It would be expending energy for no reason; a sacrifice for nothing."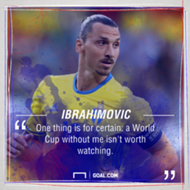 However, something changed in Zlatan thereafter. He settled down. He matured. He realised how important he was to Sweden - and vice versa. Erik Hamren played his part, welcoming Ibrahimovic back into his squad and immediately handing him the captain's armband. That decision was criticised by many Swedes, who felt that Ibrahimovic had done nothing to deserve such an honour.
Ibrahimovic, though, quickly silenced his critics both with the quality of his performances and his commitment to the cause. He became a leader. He knew that he would regularly have to carry those around him - and he very nearly carried them all the way to Brazil in 2014. However, he was ultimately outgunned in thrilling shootout with Cristiano Ronaldo in absorbing play-off with Portugal in Solna.
"One thing is for certain," the striker said after his side's elimination. "A World Cup without Zlatan isn't worth watching." It was the kind of over-exaggeration we have come to expect from Ibrahimovic but there was no denying that the tournament was a poorer place without him, which is precisely why so many neutrals were so delighted when he fired Sweden to Euro 2016 with a three-goal haul in their play-off win over Denmark last November.
The hope was that even though Sweden were handed an unenviable draw, placed in a group alongside Belgium, Italy and Republic of Ireland, that Ibrahimovic's international career would finish with one last flourish. Sadly, it didn't. There was no repeat of his physics-defying flick against Italy at Euro 2004 - a goal that always requires a slow-motion to replay to determine exactly how it was scored - or his stunning scissors kick against France four years ago.
There was no performance to compare with the one he produced in a friendly against England in November 2012, when he rounded off a four-goal masterclass with a 30-metre overhead kick. "Sometimes you have to hold your hands up to a special individual performance," England midfielder Steven Gerrard said at the time, "and that was a world-class performance from a world-class player. It was the best goal I have ever seen."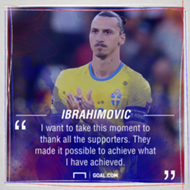 As Gianluigi Buffon pointed out last week, such strikes became the norm for Zlatan. He made the incredible look routine. He made the impossible possible. Swedish fans loved him for it but they appreciated him more for the way in which he led from the front and the more he played for them, the more they sang for him.
They did so again in Nice on Wednesday night - from start to finish. A first-round elimination was not the way Ibrahimovic wanted to say goodbye - he had the ball in the net against Belgium but the 'goal' was disallowed due to a high boot from Marcus Berg and Sweden ultimately succumbed to a sweet strike from Radja Nainggolan.
In a rare public display of humility, he admitted that he hadn't performed at his best but there was no sadness on the part of Sweden's all-time record goalscorer, no regrets.
"Disappointment doesn't exist for me; only pride and gratitude," he declared. "I'm just a boy from a small little part of Malmo and I got to represent my country. I was able to captain my country.
"I'm proud of what I have achieved and I will have many beautiful memories of my Sweden career. I just want to take this moment to thank all the supporters. They made it possible to achieve what I have achieved.
"Without them it would not have been possible. Wherever I go, I will always bring the Swedish flag with me and stand by it."
The boy who once cheered for Brazil is now Sweden's No.1 supporter and biggest legend.