Malaysia Cup
A youth team may compete in inaugural Challenge Cup, says FMLLP's Kevin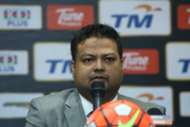 ---
BY        ZULHILMI ZAINAL       Follow on Twitter
---
The chief executive officer of Malaysian competitions organiser Football Malaysia LLP (FMLLP), Kevin Ramalingam has provided more updates on the inaugural Challenge Cup.
The tournament, which had first been revealed in the 2018 pre-season, is set to be competed between the eight M-League teams that do not qualify for the Malaysia Cup. The two tournaments are set to run concurrently, after this season's league competitions are completed in July.
According to Kevin, Challenge Cup matches will be held on weekdays so as to avoid from having to compete for the fans and media's attention with the more prestigious and established Malaysia Cup.
"Challenge Cup matches will be played on weekdays, between Malaysia Cup fixtures. We're trying not to schedule Challenge Cup matches on the same day as Malaysia Cup games, so that the Challenge Cup can gain some publicity and media coverage as well.
"The format will be two groups of four, and then the semi-finals and the final match," remarked Kevin when met by the press in a sponsor's event on Saturday.
When asked about the team that would take the place of Premier League club Kuantan FA in the Challenge Cup, after the Seagulls were kicked out of the M-League two months ago for their failure to pay their players' wages, Kevin responded with a couple of possibilities:
"We have decided to solve this by extending an invitation to the Malaysian FA (FAM). It is up to them to invite a youth team (to take the place of Kuantan), or an FAM Cup club as the third tier is run by FAM.
"FAM is likely to make a decision on this matter after it elects a new president," he said.