Republic of Ireland
Young USMNT side show Ireland how to build on World Cup failure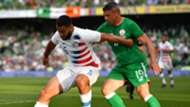 John O'Shea's 118th international appearance for the Republic of Ireland was an emotional one. The former Champions League winner was taken off after just 33 minutes to a rapturous applause from the home support, who thanked him for his service to the Boys in Green for the past 17 years.
A veteran of the club and international game, he has chosen the right time to hang up his boots for Ireland, having turned 37 in April. He made his debut in a green jersey back in 2001, back when most of Saturday's U.S. national team XI were infants.
In fact, the combined cap total of Dave Sarachan's starting line-up numbered around 120, with the USMNT looking to rebuild from their World Cup disappointment by offering chances to a new generation of talent. The squad itself had an average age of just 23 years and 102 days old when it was announced.
This contrasted sharply with Ireland's squad, who look decrepit in comparison to America's teenagers. Just two of Martin O'Neill's starting XI are younger than 23, with West Ham's Declan Rice the only teenager in the entire panel.
Neither team is going to Russia this month, and both are in transitionary phases after failing to qualify for the World Cup. Whereas the USMNT decided to completely change direction after their shock exit, sacking Bruce Arena - who himself had been brought in to replace Jurgen Klinsmann after a poor start to the final round of qualifying - and moving on from their older players, Ireland decided to stick with O'Neill, who has largely retained much of the squad that were demolished 5-1 by Denmark at home in November's play-offs.
For some of the first-half of their end-of-season friendly in Dublin, it looked like men against boys as Ireland's experienced players outmuscled their younger opponents. However, despite the trademark physicality of O'Neill's side, they failed to muster much in attack and found themselves undone by a lapse in concentration just before half-time that allowed Bobby Wood to sneak in and score after a free-kick.
Wood is one of the few internationally experienced players on the U.S. roster, picking up his 37th cap and 12th goal in Dublin. The goal caused Ireland to increase their tempo, which resulted in their least experienced starter finding the net. Shamrock Rovers forward Graham Burke turned the ball home from very close range, having just made his international debut six days ago against France.
The age differential was obvious again with the two goalscorers. The U.S. veteran is actually just 10 months older than the Ireland rookie, with Burke getting his first chances to impress for Ireland at 24-years-of-age.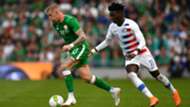 The USMNT will go almost two years between proper competitive games, while O'Neill will point to September's Nations League kick-off as the reasoning behind sticking with tried-and-trusted rather than a sea change of personnel.
Unattractive slogs of football matches like this one are a good experience for younger players, with prospects like Timothy Weah, Tyler Adams and Matt Miazga all showing signs of their burgeoning talent. International football is often a difficult step-up for newcomers, who played out a narrow defeat at a venue where a more experienced USMNT side were trounced 4-1 just over three years earlier.
Back in that November 2014 game, the visitors fielded a team including nine players who had started at the previous World Cup, but were convincingly beaten by a young Ireland team who had two debutants in the starting XI.
Even without Christian Pulisic in the side, the visitors showed how their rebuilding effort can prove fruitful. Ireland were largely the better team in the second-half and sealed the win with a late Alan Judge goal, but with four years until the next World Cup and a new permanent head coach still to be appointed, the USMNT is on the right path to getting themselves back amongst the big boys.
They faced bigger boys in Dublin and all proved they were man enough to handle it.