Manchester United
'You'll see the benefits in years to come' - Rashford reveals Ibrahimovic's huge impact as his mentor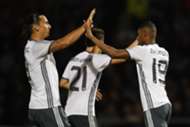 Manchester United star Marcus Rashford says the benefits of playing alongside Zlatan Ibrahimovic will be seen for years to come, describing his attacking team-mate as "irreplaceable'. 
The 35-year-old will play no further part for Jose Mourinho's side this season having sustained a knee injury in United's Europa League quarter-final tie against Anderlecht, and will see his current deal at Old Trafford expire in the summer. 
Speculation surrounding Ibrahimovic's future has linked the striker, who has scored 28 goals this season for United, with a move to MLS, though Rashford believes it will be impossible to replace the Swede.
"You will see the benefits in years to come," he told The Telegraph. "What I have learnt from him is irreplaceable."
"His influence on the younger players, especially, is fantastic. We want that to continue because he is making us into better players.
"Now, when I go to the left or right, I see it differently to how I pictured it last season. They are things I didn't have naturally inside me. I didn't feel uncomfortable in the wide role, but when something is different it takes a while to get used to it. For me, the development has been going great all the way through.
"Next season I think I will have come across most situations that are going to occur." 
Rashford, who suffered somewhat of a mini-drought in front of goal until a strike against Sunderland sparked a run of three in five, believes that his role in a wider position will allow him to follow in the footsteps of some of the best in the world. 
Cristiano Ronaldo, Gareth Bale and Neymar have all transformed from the wing to centre-forward in recent years, and 19-year-old Rashford is looking to implement what he has learned to lead United to silverware in future.
Martial triggers €10m Monaco clause
"You look at all the strikers in the world now, I can only think of two, three who are No 9s – Harry Kane, Robert Lewandowski, Luis Suarez," Rashford said. "Sergio Aguero? You could play him deeper as a No 10.
"The qualities a striker needs now are different to what they used to be. When you look in the first team here and there are players who have won 15, 20 trophies, you want to try and live up to that and even exceed what they have done."