World Cup
El Maestro Oscar Tabarez's battle against illness sums up Uruguay's fight against the odds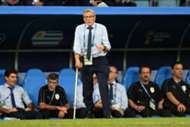 It is tempting to believe that only England, Sweden, Russia or Croatia will provide a shock at this World Cup, with one of those four modest sides guaranteed a spot in the final thanks to an unbalanced draw. Yet it would be foolish to ignore Uruguay's chances, even if the odds are not in their favour. 
If they are to do it they will have to be the hard way, by beating France and then either Brazil or Belgium, but it is not beyond them. They have the quality of Edinson Cavani and Luis Suarez up front and the nous of Diego Godin and Jose Gimenez at the back, and the entire squad is united by a fighting spirit and determination to win that gives them a real chance of causing an upset.
A large part of what they have achieved so far, and what they will achieve in the future, is down to their coach, Oscar Tabarez. The veteran is revered for his role in reshaping the country's youth set-up, establishing a conveyor belt of talent that has allowed him to refresh the team that he led to the Copa America in 2011 with a fresh crop of talent ready to make waves in Russia, and most likely even when the 71-year-old eventually steps down.
What's more, for several years now he has been battling what he has called "chronic neuropathy", which has at times forced him into a wheelchair, and is the reason he has been using a walking stick to help him get around this summer.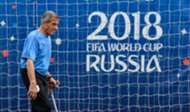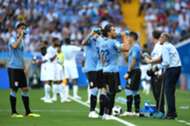 As far back as 2011 he invited a Uruguayan businessman who had overcame Guillain-Barre syndrome, a condition that causes the body's immune system to attack the nerves, to give a motivational speech to the national team squad. Juan Araya needed help eating, dressing himself and washing, and Tabarez wanted him to "deliver a message of triumph in the face of adversity, not just in life but also on the football pitch." 
Tabarez was first seen using walking sticks during World Cup qualifiers against Peru and Brazil in 2016, and later that year it was widely reported that he himself was suffering from Guillain-Barre syndrome.
He quickly denied this (although it is still commonly believed that he does suffer from it) and instead outlined how the chronic neuropathy has affected him over the years. 
The veteran manager, who had spine surgery in 2013, revealed that during qualification for the 2014 World Cup he would sometimes be brought to tears by the pain of trying to walk up stairs, but insisted that his mobility problems affected him differently.
"I don't experince any type of pain," he told Subrayado. "The neuropathy causes me motor problems, especially when walking. I'm using just one stick, but when the ground is more or less solid, I don't use any. 
"As it's a chronic illness, at times I'm a bit better and at times less so."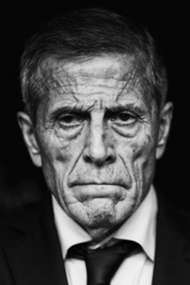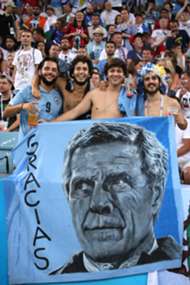 Generally in Russia he has still been seen using a cane to help him get around training pitches and stadiums, although at times, such as during the 2-1 victory over Portugal last Saturday, he has been able to walk a few metres unaided.
The 71-year-old has dedicated many hours to physiotherapy, has met with many doctors and tried several different treatments in a bid to keep working, and given the respect he has built up over two spells in charge - between 1988 and 1990 and 2006 to the present day - nobody has ever wanted him him to step down.
"If there came a time when I saw some sign that the players do not follow me or something like that, I would think about leaving, but it has not happened," he said in 2016.
Clearly that has not happened; he has helped develop most of these players, and has led many of them to international success. Their admiration for him has only grown after witnessing first hand how hard he has worked to still be in a position to physically do his job.
And given that his illness does not affect him mentally, his fight to combat his physical ailments have allowed him to continue working almost as normal.
In recent years he has not needed to be a hands-on coach anyway; as a result of the systems he has put in place since taking charge again in 2006, he is able to pick a group of players who already know what it takes to play in his sides. Thanks to his meticulous work, his job is now to pick the best players, decide the tactics for any given match and convey those ideas to the squad.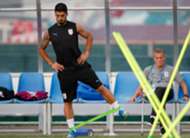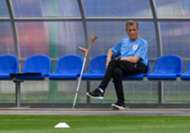 When he has needed help he has been able to rely upon a team of loyal assistants - some of whom he has worked with for decades - who can work more closely with the team and provide him with information to organise and factor into his plans.
And an electronic match analysis programme has also helped; by providing data in real-time, Tabarez can provide feedback to his players during and after matches.
Thanks to a combination of the systems he has put in place over the past 12 years at every level of Uruguayan football, the coaching staff he has constructed and his own hard work and determination, Tabarez is still fully capable of doing his job despite his mobility problems.
For somebody who could scarcely have been more respected than he already is back in Uruguay, his battle with illnes, at the age of 71, has made him an inspiration.
Despite everything, he has got this far, and in this most unpredictable of World Cups who would bet against him leading his country all the way to the final?