World Cup
World Cup contenders or overhyped again by the media? Why England should not be written off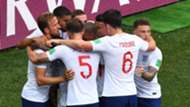 Uruguay and Croatia. Those are the teams who have won all three group games at the World Cup. It's a short list. 
All of the pre-tournament favourites have stuttered and suffered in some way so far in this tournament. None of the big guns have been convincing, struggling to beat so-called weaker teams, while the 100 per cent sides of Uruguay and Croatia both needed late winners to guarantee their perfect starts.
On Thursday, one of England or Belgium can add their name to the list of teams with a 100 per cent record, facing off in Kaliningrad to decide who tops Group E. While neither side have faced much in the way of opposition so far, with Tunisia and Panama their opponents to-date, victory for either would confirm their status as genuine contenders.
Even though the Three Lions have already guaranteed their spot in the last 16, defender Gary Cahill insists that the team will be going all out to win the game and show the world what they can expect from England in the knockout stage.
"It's not a game that you are going into as a friendly or a pre-season tour where you can half take your foot off," Cahill told reporters.
"It's huge, no matter what the situation is within the group because everyone is watching. It's all about momentum. And if we beat Belgium, I don't think any team would want to face England."
Ahead of the tournament, there was little fanfare around England - a change from previous competitions where pundits at home believed that they should be genuine contenders. However, while other major teams were imploding in Russia, Southgate's players were becoming a unified team, gathering self-belief through their on-field performances and off-field bonding.
England's XI does not have the same star quality as much-hailed 'golden generations' of times gone by, but have a cohesiveness that was often missing from previous Three Lions teams. Whereas Germany, Argentina and Brazil struggled to break down the low block of minor teams, Southgate's dynamic attack has found a way to exploit these rigid defences, using well-timed runs and precise passing, as well as their physical presence from set-pieces to score eight times in the first two games.
The mood within the group is harmonious, with the lack of tabloid exposes on in-camp exploits telling as England make headlines at home for the right reasons during a major tournament. St George's crosses are being proudly displayed across the country, with media starting to believe having underplayed the team's chances in the months leading up to the competition - a severe contrast to past World Cups where pundits were engraving winners' medals and planning victory parades even before the squad boarded the planes to the tournaments.
Chelsea legend and 106-time England international Frank Lampard was not afraid to put his heart on his sleeve to go with the three lions on his shirt.
"I think we can go all the way, I genuinely do," Lampard told the BBC's World Cup Daily Podcast. "I don't see why we would be negative enough to start going 'oh we have to get to the quarter finals'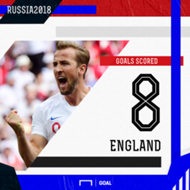 "I think the team have shown in their performances – and this is not me getting ahead of myself – just look at the talent in our squad and the way they're playing, why should we write ourselves off?
"Yes, the players will focus game by game and day by day, that's tournament football, that's what they have to do. But ourselves from the outside, we can look in and say 'this team has a real chance'."
While Lampard & Co. are beginning to believe England can win the World Cup, the players are remaining grounded, refusing to look any further that their next game, dismissing projections of last-16 clashes or which route to the final could be easier. Eric Dier will be handed his first start of the tournament against Belgium, but is not thinking about the possibility of lifting the trophy on June 15.
"No, it's nothing that we have discussed," Dier said in the pre-match press conference. "We're focusing purely, I think, on one game at a time, I think that's the best way to look at football... Because if you look too far ahead you can get in trouble."
The Belgium game is all any of the players are focused on at the moment, but a victory over Roberto Martinez's free-scoring Red Devils could really change the destination of the hype-train.
It's coming home...