Kaizer Chiefs
Wiseman Meyiwa: The one player with a point to prove in the Soweto Derby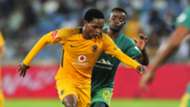 It has been almost three years since the Meyiwa name made headlines in Soweto Derby matches, but Saturday's encounter between Kaizer Chiefs and Orlando Pirates means more than just bragging rights for young midfielder Wiseman, even though he's not related to the late Senzo Meyiwa. 
The former goalkeeper played his role in Soweto Derby matches and earned plaudits from many fans for his performances, but the baton is now passed to the 17-year-old Amakhosi starlet to show South Africa if he's ready to shine in front of a packed FNB Stadium.
Steve Komphela has so far this season believed in Meyiwa, and the Pietermaritzburg-born player is yet to put a foot wrong.
However, Saturday's clash at the Calabash could prove to be Meyiwa's biggest stage to make a real statement and raise his hand that he's ready to be the star he's tipped to become in the next few years.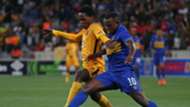 Soweto Derby matches aren't as easy as many think - they could either make or break a player, and if Meyiwa does well against well the Buccaneers, he would most definitely earn a place among the future legends of South African football.
Off the pitch, there has been talk of him faking his real age, but his football manager at Chiefs, Bobby Motaung, feels whoever is spreading the rumour is only trying to destabilize Meyiwa, especially now that he's playing for the first team. 
But it's up to Meyiwa to silence these critics on the field of play - after all, that's where he first caught the attention of many football fans. 
In the past, players made impression against relatively small clubs and disappeared completely when it mattered the most against the big boys in the league.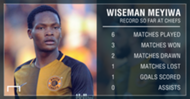 Players such as Phakamani Mahlambi and Teboho Mokoena among others, have raised the bar higher in the past few months, and that should be motivation enough for Meyiwa and many other youngsters to take it to another level by performing consistently, not only against Pirates but against all the teams in the league. 
With so much talent in midfield at Amakhosi, an impressive showing against the Sea Robbers could be crucial if Meyiwa wants to play regularly under Steve Komphela. 
His big match temperament has become evident over the past few weeks, but the experience he gained in two Fifa World Cup with junior national teams will surely have to come to the fore on Satturday. 
He has the responsibility to prove to everyone how he handles the pressure and expectations from Amakhosi faithful.   
Komphela left Meyiwa on the bench against Mamelodi Sundowns on Tuesday, probably hinting that he has a bigger role to play in the Soweto Derby this weekend.