Jürgen Klopp
'Win like Ramos? I'd rather be a bad loser!' - Klopp again takes aim at Real Madrid captain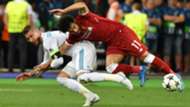 Jurgen Klopp has aimed a fresh dig at Real Madrid captain Sergio Ramos, with the Liverpool manager eager to point out that he does not share the Spaniard's 'win at all costs' mentality.
The wounds of a Champions League final defeat to the Blancos are yet to heal for those at Anfield, with the fallout from an action-packed contest in Kiev having dragged on through the summer.
Liverpool saw their cause on the day hindered early on when 44-goal talisman Mohamed Salah was forced from the field after tangling with Ramos.
The Madrid defender would then go on to crash into Loris Karius, leaving the Reds goalkeeper concussed prior to making two costly errors in a 3-1 reversal.
Klopp has already branded Ramos "brutal" and "ruthless" and has now questioned his approach to trophy chasing, telling Sport1: "I don't want to win by any means.
"Of course I would have liked to become a Champions League winner, and I would not have returned the title if shown various indiscretions.
"I do not expect that from him [Ramos], I only expect that he gives more thought to his assessment of certain situations.
"It may have been a coincidence, but Mo Salah was taken out of the game during an outstanding phase of his footballing life, in the middle of the field.
"Many people will say that these things happen. But if that is the message we are sending to our children, that nothing is out of bounds and it's all about winning, then I will be glad to leave this planet in 40 years.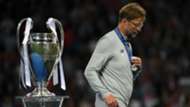 "Am I a good loser? No. But during our preparations we had to talk about Ramos because he had influenced the final the previous year with a dive and a red card [for Juan Cuadrado] against Juventus.
"Real Madrid have deserved to win the Champions League, nobody has ever said anything else. But do you have to have those situations with Ramos? No, you don't."
Ramos has been far from apologetic in his post-final comments, with the World Cup winner happy to keep stirring the pot and fill the role of pantomime villain.
After learning that Salah had suffered a dislocated shoulder and Karius concussion, the 32-year-old said: "I didn't want to speak because everything is magnified. I see the play well, he [Salah] grabs my arm first and I fell to the other side, the injury happened to the other arm and they said that I gave him a judo hold.
"After the goalkeeper said that I dazed him with a clash. I am only missing [Roberto] Firmino saying that he got a cold because a drop of my sweat landed on him."