Transfers
Wilfried Zaha's 'all Palace' despite transfer speculations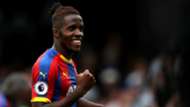 Wilfried Zaha has restated his commitment to Crystal Palace and confirmed ongoing talks over a new contract.
Several European clubs including Chelsea, Everton, Tottenham Hotspur and Borussia Dortmund were interested in signing the forward who enjoyed an excellent 2017-18 season with the Eagles.
Earlier this summer, Zaha reportedly rejected an improved offer worth £125,000-a-week - over a year after inking a five-year deal with the Eagles.
Following their 2-0 league defeat of Fulham on Saturday, the Cote d'Ivoire international stated that he is unmoved by transfer speculations and hopes both parties [the club and him] reach a common ground for a new deal.
"It [transfer speculation] makes no difference to me because I had my head down anyway," Zaha told Sky Sports.
"All that stuff was not going to affect me or how the team were playing. Whatever happens, happens.
"But I'm all Palace - and you can see on the pitch that all I think about is the team doing well.
"We are still speaking about [a potential new contract], still negotiating, whatever. Just going to see if we can come to an agreement.
"The main thing for me is scoring goals. Everyone talks about 'no end product, no end product'. Well, tell me now."
Meanwhile, the fleet-footed winger reserved commendations for Aaron Wan-Bissaka – Palace's 20-year-old right-back – who provided the assist for his first goal of the season at the Craven Cottage.
"He's very receptive to information. He's very serious about his football. I've seen him get better over the last six months," he added.
"How much better he can get, who knows but at the moment we're more than happy with him because he's doing everything we need him to do on the field and that's proven against a team of Fulham's quality."