Transfers
Who is Laszlo Benes? The 'new Marek Hamsik' wanted by Arsenal who supports Man Utd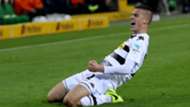 ---
PROFILE
---
On August 20, 2015, a star was born in Zilina. That night, Athletic Bilbao were in town to take on one of Slovakia's best sides in the Europa League play-offs.
The Basques' coach at the time, Ernesto Valverde, was confident enough to leave some of his key players on the bench, including Aritz Aduriz and Gorka Iraizoz. It would prove a mistake.
Liverpool finalising £35m Salah deal
Despite leading 2-0 at half-time, Athletic slumped to a shock 3-2 defeat, with Zilina's 17-year-old playmaker Laszlo Benes inspiring a sensational turnaround.
Before the hosts' first goal, he deceived one of his opponents near the touchline with a sly drop of his shoulders before whipping a wonderful cross into the area, and created his side's equaliser with a measured through-ball for Brazilian striker William.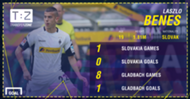 Zilinia then netted late on to claim a famous win and, although they ultimately bowed out on away goals, after losing 1-0 in the return leg in Bilbao, every football fan in Slovakia now knew about Benes, 'The new Marek Hamsik'.
It was an obvious comparison to make. Indeed, sometimes it looks like the only difference between them is Benes being left-footed. Due to his reading of the game, passing ability and technique, he has already been hailed as Hamsik's successor.
When asked by Goal if the pair are similar, the teenager laughed and replied: "Maybe a little!"
Benes' reluctance to compare himself to the Napoli ace is understandable. After all, he had posters of two players on his wall as a child: Cristiano Ronaldo and Hamsik. They are both still idols in his eyes.
However, Vladimir Goffa, who coached Hamsik during his time in Slovan Bratislava's youth sides, sees much of his old charge in Benes.
"Marek's game was already very mature in his teenage years, especially from the point of view of his reading of the game," he explains to Goal.
"Benes is special, particularly due to his creativity. If he is not restricted by some tactical system, he will develop even more."
Former Slovakia international Samuel Slovak does not support the comparison, though, arguing that Benes is more reminiscent of a legendary English winger.
"I would compare him to Chris Waddle," he enthuses. "He was left-footed, the same as Benes.
"Laszlo is highly talented, has great physical attributes and also character. However, he has to work hard in order to confirm his qualities."
Benes' rapid rise to prominence is made all the more remarkable by the fact that he was not even playing senior football just a couple of months before the Athletic game.
RUMOURS: United plot huge Ronaldo bid
In February 2015, he signed a contract with Zilina after having spent four years in ETO Gyor academy in Hungary. Zilina wanted him to get used to the league gradually, so they used him predominantly in reserve matches in the third division. After few games, though, it was clear Benes was a special talent.
"I came to Zilina in order to play senior football," Benes reveals. "In Gyor, I had played only one game for first team. In Zilina, I was getting opportunities regularly."
He was taking them too, as scouts from all over Europe were coming to see Benes play, and representatives from Arsenal, Liverpool, Southampton, Stuttgart and Red Bull Salzburg liked what they were seeing.
The Gazzeta dello Sport also put him on their shortlist of 50 best young players in the world, alongside Kingsley Coman and Leroy Sane.
Encouragingly, Benes realises that he has not yet made it, appreciating that the positive publicity is nothing more than evidence that he is on the right path.
"The essential thing for any player is to work really hard every day and to give his best to improve," he says. "I consider it to be only another test for me.
"I cannot get satisfied with what I have already achieved. I have to continue like this. I will do everything I need to move to a higher level."
Last summer, he transferred to Borussia Monchengladbach for a fee in the region of €8 million, making him the most expensive player ever to be sold by a Slovakian club.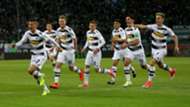 Arsenal were among Monchengladbach's opponents in the battle for Benes' signature but his agent Karol Csonto felt that his client would be better served by a move to Germany.
"Borussia Dortmund and Borussia Monchengladbach were the only two clubs we would allow him to join," he explains.
"Currently, I would not let him go to England. Arsenal were interested in him, too, but we had to be realistic about first-team chances."
Arsenal's interest was logical, though, as Benes is a type of player Arsene Wenger really likes – technical and intelligent.
He is also patient, having endured a difficult start to his career in Germany.
"I could have played in the summer friendly matches for Monchengladbach, but as I got injured, I got only 45 minutes," he reminisces.
"I was injured for six weeks and, during the autumn, I started only for the Under-23 team. I was in similar situation after I arrived in Zilina."
Lewy's fury at Bayern team-mates
However, in spring, Monchengladbach's coach Dieter Hecking gave him a chance off the bench in the Bundesliga clash with the mighty Bayern Munich.
"The night before the game, I was not even able to sleep," Benes confesses. "It was my dream to play against Bayern.
"My dad was crying a little but that's a normal thing, in my opinion!"
After playing well, he started against Hertha Berlin in April and scored the only goal of the match.
"All our players saw what Benes is capable of. I am sure they understood they have a new competitor for a place in the line-up," Hecking said in the post-game interview with Sky Sports.
Midfielder Patrick Hermann added: "He plays like an experienced player. It is not visible that he is only 19."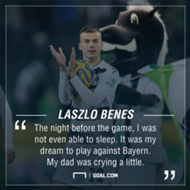 In total, he played in eight Bundesliga games last season. It was enough to convince senior national team's coach Jan Kozak to give him his international debut on June 10, against Lithuania.
After the game, he immediately travelled to Poland to link up with the Slovak squad for the European Under-21 Championship.
Benes did not start in the first game against Poland, but if he is given a chance against England on Monday, Arsenal might feel a few pangs of regret that they did not try even harder to sign him.
'Donnarumma has cost Milan €100m'
Although perhaps it was never likely to happen, as Benes has repeatedly said that his favourite club is Manchester United.
For the moment, he is thinking only of his country and openly admits, "In the future, I would love to play alongside Marek Hamsik in Slovakia's midfield."
As will become obvious to any observer of Benes' outings in Poland, it is only a matter of time before that wish becomes a reality.