Mexico
Where were Lozano and Chicharito? Mexico attack silent against USA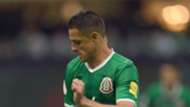 In a night that was begging for them to fire off, two of Mexico's biggest guns were held silent with forward Javier "Chicharito" Hernandez and Hirving Lozano struggling to find scoring chances and putting no shots on goal.
El Tri got just one shot on frame in Sunday's match. That shot turned out to be enough to remain undefeated against the United States at the Estadio Azteca, but it was not enough to beat the Americans, with the night closing in a 1-1 draw.
Match Report: Thrilling qualifier ends level
That shot from Carlos Vela was gorgeous, an opportunity he created for himself after Chicharito sprung him on the counterattack. In some ways, it served to wipe away memory of the forward's error that led to the United States' own spectacular goal 17 minutes earlier when he watched as Michael Bradley took the ball off him and lobbed goalkeeper Guillermo Ochoa.
Carlos Vela has equalized for Mexico! Game. On. #USAvMEX https://t.co/TESnWekp5I

— FOX Soccer (@FOXSoccer) June 12, 2017
More inexcusable than that error, though, is the fact that Chicharito wasn't able to put a single shot onto Brad Guzan's net all night. He had only one attempt. Mexico was creating opportunities, with Hector Herrera and Jonathan dos Santos laboring in the midfield to spring attacks after winning possession and Hector Moreno continuing to look for the No. 9 dropping into the United States midfield. Yet nothing came through for Hernandez.
Credit has to go to the United States and Bruce Arena for devising a tactical plan with three center backs who clogged up the middle of the field. Geoff Cameron was in Chicharito's space all night, making it next to impossible for him to find any space.
"Their idea from the start was to defend. They defended with five, waiting for us to make an error," Mexico coach Juan Carlos Osorio said. "That's what happened on the goal."
For so long, Chicharito has been the best forward Mexico has to offer. He continues to play at a high level and fewer than two weeks ago he was lauded by Osorio as one of the top finishers in the world. So, it seems like an absurd suggestion to say Mexico might be better served to have Raul Jimenez start at center forward. But there are a few bits of evidence that Jimenez works better with this team than Chicharito, starting with the Benfica forward's superb performance against Honduras.
The U.S. is a stronger team than Los Catrachos by some margin (that margin might be 6-0, if you're to believe the last meeting between the teams in World Cup qualification), but Osorio may go to Jimenez sooner in a match where he doesn't choose to burn a substitute in the first half because of a tactical switch.
Lozano, the 21-year-old player of the moment thanks to his links to a Manchester City, PSV or Celta de Vigo move from Pachuca, was even more quiet than Chicharito, putting no shots on goal and completing just one of the six dribbles he attempted, according to Opta stats.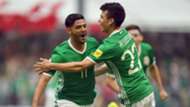 "He hasn't been able to shine like normal. They defended him well," Club America coach Miguel Herrera said of Lozano on the Univision broadcast. "He hasn't been able to find his timing, space. I don't think it's been his best night."
Top 10 USA-Mexico matches since 2000
Lozano agreed that the game wasn't his best but said he and his teammates are confident they're on the right path toward success.
"I think the game was tough, but that's how soccer goes," he told reporters in the mixed zone after the match. "We're going to work and try to get better."
With Jesus "Tecatito" Corona missing the tournament because of a personal issue, it will be all the more difficult to leave Lozano on the bench or seek out a replacement for him. And likely both Lozano and Chicharito will break out of the mini-slump. They'll find or create space and have more opportunities.
They didn't Sunday night, and it cost their team two points that would've all but clinched qualification in the World Cup. These two stars of the Mexican national team must find space, find shots and find goals if Mexico is going to have a Confederations Cup to remember.