Neymar
Wheelchair-bound Neymar posts bizarre Stephen Hawking tribute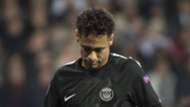 The passing of inspirational physicist Stephen Hawking has elicited tributes from around the world, but none are quite as strange as the one posted by Neymar.
The world's most expensive player is currently back in his native Brazil following surgery on a broken metatarsal picked up in February.
His absence from the Paris Saint-Germain team hindered their chances of progression in the Champions League as they lost out to Real Madrid, and the former Barcelona star now faces a race against time to be fit for the World Cup with Brazil this summer.
Neymar's injury has confined him to a wheelchair for the first part of his recovery, a lifestyle that Hawking was forced to grow accustomed to having been diagnosed with motor neurone disease in 1963.
Hawking spent 55 years in a wheelchair before his death on Wednesday, though that did not stop him from making a huge impact on the world of science.
Neymar was obviously a fan of Hawking's work given his willingness to pay tribute, though opting to concentrate on Hawking's disability rather than his discoveries in his Twitter post was perhaps unwise.
Você tem que ter uma atitude positiva e tirar o melhor da situação na qual se encontra.

Stephen Hawking pic.twitter.com/JE2MtyuT6b

— Neymar Jr (@neymarjr) March 14, 2018
"You have to have a positive attitude and get the best out of the situation in which you find yourself - Stephen Hawking," he wrote on social media, accompanied with a picture of him laughing in his wheelchair.
Though well-meaning, it perhaps might have been best to post the quote without the photo, with many critics claiming he was making a joke out Hawkings' illness.