Bayern München
What's wrong with Thomas Muller? The Bayern Munich forward has lost his Midas touch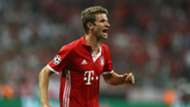 ---
COMMENT
---
Thomas Muller described Bayern Munich's 4-1 rout of PSV on October 19 as "fun". It had been a welcome release for the German, who has not been enjoying himself at all of late.
Indeed, others have been enjoying themselves at Muller's expense, with the forward having become a figure of fun during a dismal 2016-17 campaign so far.
Hummels: I was close to Man Utd move
Even San Marino have mocked Muller's struggles in front of goal this season. After Germany's 8-0 demolition of the microstate in a World Cup qualifier last month, Muller mused: "I don't understand the point of such uneven games like these, even more so because of the crowded fixture list.
"I understand that for them it is special to play against the world champions. I understand also that they can only defend with tough tackling. For this reason, though, I wonder if these are not games which bring unnecessary risks."
During a wonderfully witty 10-point dissection of Muller's argument, San Marino Olympic Committee spokesman Alan Gasperoni sarcastically stated: "It served to show you that not even against the teams as poor as ours can you score a goal."
Whatever the appropriateness of such sniping, the fact is that Muller's strike-rate has fallen dramatically since the end of last season.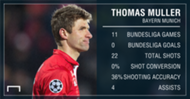 What makes this dip all the more surprising is that it came after the most prolific season of his career at club level. Muller netted 20 times in the Bundesliga alone last term, racking up 32 goals in all competitions. He looked perfectly primed for Germany's bid to add the European Championship crown to the World Cup title they claimed in Brazil two years ago.
Yet Muller floundered in France. Germany reached the semis - but that was in spite of their most feared forward not because of him. Muller played every minute of his country's run to the last four - yet he didn't score once. He even missed his penalty in the quarter-final shootout success over Italy, prompting him to quit taking spot-kicks for Germany.
When Carlo Ancelotti succeeded Pep Guardiola as Bayern boss during the summer, the Italian realised that Muller was physically and mentally exhausted. "He needs a holiday because he has completed many games," the former Real Madrid coach stated shortly after his arrival at the Allianz Arena. "But when he comes back, he will be an important part of the team."
Only it hasn't worked out that way. Muller struck against Borussia Dortmund in the DFL-Supercup but, in truth, he returned neither refreshed nor revitalised after his extended break. Nearly four months into the domestic season, and after 11 outings, Muller has yet to break his Bundesliga duck.
The Champions League has, at least, provided some reassuring evidence that Muller has not completely lost his goalscoring touch - he has two goals in five matches - but it is clear that his confidence has been rocked by this unusually poor run.
After wasting another penalty in October, in a DFB-Pokal clash with Augsburg, Muller also decided to give up taking penalties for Bayern. It was easy to understand why: it was his fifth miss from 12 yards since August 2015.
"[The misses] are very annoying and they bother me," he confessed to Bild. "I will focus on the football matches in the future instead and my colleagues can take the penalties."
Ancelotti is adamant that Muller's Midas touch will return and he went out of his way to heap praise on the Bayern No.25 after an encouraging display against Mainz last Friday.
"I've always said he's a very intelligent player, who can play in any number of number of positions up front," the Champions League winner said.
However, it has been painfully evident this season that Muller cannot play everywhere across the forward line. Ancelotti pushed him wide early on in the campaign because of injuries to the likes of Douglas Costa, Arjen Robben and Franck Ribery but Muller possesses neither the trickery nor the pace to function well as a winger.
The Italian has now accepted this, as evidenced by the fact that he ditched his usual 4-3-3 formation in last weekend's win over Mainz in order to utilise Muller in more of trequartista role within a 4-2-3-1. The result was Muller's most involved and most menacing performance of the season so far, one which featured two assists.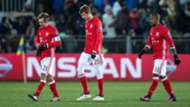 Of course, he still remains without a goal in the Bundesliga, the significance of which is not lost upon Bayern captain Philipp Lahm. "I have scored a goal more than him," the versatile defender told Sky. "I have obviously teased him about that a few times!"
Lahm knows well, though, that if Bayern are to maintain their domestic dominance, or have any chance of conquering Europe once again, they'll need Muller smiling again for the right seasons.
The skipper is optimistic on that front. "With the quality Thomas has, it is just a matter of time before he starts scoring goals again," the former Germany captain insisted.
There have been suggestions of late that even Muller's woes continue, Bayern might think twice if Manchester United were to return with another big-money offer for the World Cup winner. However, supervisory board member Edmund Stoiber dismissed the idea out of hand.
"The fans were already a bit unhappy when Schweinsteiger left us for Manchester United but he was already 32 and wanted a new challenge," he explained. "But our fans and members would never forgive us if we sold Muller.
"He is the opposite of someone like Cristiano Ronaldo. He is much more than just a great player. Muller is part of our DNA. He represents key values for us and is someone the fans love."
Muller clearly remains central to the Bayern project. If he retains a more central role within Ancelotti's line-up, the goals should return.
Certainly, hitting the back of the net on Tuesday, against an Atletico Madrid side that have conceded just once in Europe this season, would certainly go a long way towards restoring Muller's shattered confidence.