Manchester City
Walker the line - Man City's £130 million full-back plan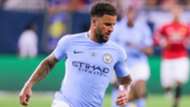 Eyebrows were raised all over the continent when Manchester City made Kyle Walker the world's most expensive defender.
While the former Tottenham Hotspur man may not, intrinsically, appear worth the £50 million that last season's Premier League runners-up were only too happy to accept, the Premier League has once again redefined the market values of European football.
That Walker has been one of the best full-backs in England for the last couple of seasons was never up for debate. 
And when his fee was eclipsed to capture Benjamin Mendy from Monaco, Pep Guardiola's desire to address what had been the glaring problem positions of his first season in England was clear.
Danilo, who had endured a wretched couple of years at Real Madrid, was added as cover for both, in a move that took Man City's outlay on full-backs to a stunning £130 million.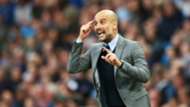 Full-backs have been key to Guardiola's coaching career, and last season the four on his squad simply couldn't provide what he was asking of them.
"We don't have full backs to go up and down, up and down," Pep said in April after a goalless draw with rivals Manchester United.
"Pablo [Zabaleta], [Bacary] Sagna, [Aleksandar] Kolarov and [Gael] Clichy - all of them they are more than 33 years old and they don't have the legs to go up and down."
All four were sent packing this summer, replaced by a trio aged 23, 26 and 27.
An eternal innovator, Pep's brand of football, and modern game overall, requires full-backs to be far more than simply wide defenders. 
With the overwhelming majority of wide forwards at the elite level of the game now operating principally as inverted wingers, the emphasis is on the full-backs to provide width, essentially asking them to man the entire flank.
But Guardiola's preference for his full-backs to step forward and move inside to add greater numbers into central midfield means Pep asks his to do even more.
They are often tasked with positioning themselves between two central midfielder players, providing an extra diamond that offers greater passing angles, forming a shape that at times resembles the famed 3-3-1-3 of Pep's mentor, Marcelo Bielsa.
Time and again the space behind City's ageing wide defenders was exposed last term, their tired legs leaving gaps that were exploited, most notably, by a rampant Leicester City in a 4-2 demolition in December.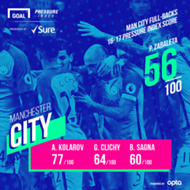 Walker and Mendy may be the costliest defenders in history, but they appear exactly the tonic to a defensive unit that looked wildly dysfunctional last term.
Kyle Walker won more duels, completed more passes in the final third and covered more ground and made considerably more sprints than all four of City's full-backs last term. Walker and Mendy also earned more assists individually (5) than all Sagna, Zabaleta, Kolarov and Clichy combined. 
Danilo's arrival for £26.5 million, meanwhile, may well have been met with sniggers in Spain, but it's worth remembering he can also fill in at left-back, and that he played in central midfield in the early stages of his career at Santos.
His technical limitations should be less exposed in the rampaging Premier League, and there are few better coaches in the world to address his positional troubles than Pep.
Following his arrival from Spurs, Walker cited how Guardiola had helped propel the likes of Dani Alves and Philipp Lahm into world greats, insisting the former Barca coach was the man who could take him to the next level.
City hope Walker and company can take the club to that next level. They have put their money where Pep's mouth was. Now the pressure is on the new arrivals to ensure they were worth it.
The Goal Pressure Index is presented by Sure, Official Partner of Chelsea FC, Everton FC and Southampton FC. Join the conversation on Twitter @Sure.