MLS
Vieira laughs off rumors linking him to European managerial jobs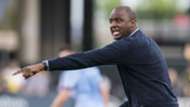 NEW YORK — When asked about the fact he's become the subject of several rumors linking him with managerial positions throughout Europe, Patrick Vieira smiled and asked where his name had been mentioned. Told he had been the betting favorite to take over at Southampton, the Arsenal legend playfully drummed his hands on a table in a sort of mock excitement that drew laughs from the journalists around him.
Goal's Week 16 MLS Power Rankings
Vieira could not have been more poised in facing the question, swatting it away as easily as he gobbled up the ball as the midfield ace in Arsene Wenger's Invincibles. Just three days before leading New York City FC against the rival New York Red Bulls, Vieira made it clear he isn't about to leave MLS in the middle of his second season.
"I've been in the game for quite a long time, and my head and my mind is really focused on what I want to achieve and what I'm trying to achieve with New York City FC," Vieira said Tuesday. "It's always flattering — I don't say it's not. It's always flattering to be linked with clubs, but at the end I know where my head is."
No stranger to being the subject of transfer rumors during his playing days, Vieira didn't sound too bothered by the rumors that have linked him to managerial positions ranging from Saint-Etienne in France to Southampton. Betting sites in the U.K. installed him as the favorite to replace Claude Puel at the Saints just a week after Vieira had been mentioned as a candidate for the Saint-Etienne job, which has since been filled by former Red Bull Salzburg manager Oscar Garcia.
"I think to have my name linked with Saint-Etienne or any other team is always flattering, I think it's always good," Vieira told ESPN in a recent interview. "But it stops there. It's not going any further than that. I am really happy here, I am really into the project because it is really exciting what we're trying to build at this football club and I want to be part of it."
The 40-year-old World Cup winner has enjoyed an impressive time in MLS since taking over as NYCFC coach prior to the 2016 season. In his first season in charge of the young MLS team, Vieira oversaw a 17-point improvement that led to NYCFC's first playoff appearance.
The job was Vieira's first managerial position after stints leading Manchester City's reserve team and elite development squad. Considered a top coaching prospect who was expected to refine his managerial chops in MLS before a return to Europe, Vieira has helped transform NYCFC into one of the better teams in the league, and a club that also plays some of the most attractive soccer in MLS.
"I think he's a great manager, he does a great job with our team," NYCFC midfielder Jack Harrison said of Vieira. "Managing the team, making sure everyone's happy. He's very approachable too. If you have any sort of questions, he likes when people go to him to inquire about game play or our style.
"It's important to have a good relationship with the manager and I think all the guys on our team have that with him."
Vieira will lead NYCFC into Saturday's installment of the New York derby searching for the team's first win at Red Bull Arena. Despite the persistent rumors linking him to a move back across the Atlantic Ocean, Vieira insists he already is exactly where he wants to be, at least for the near future.