NPFL
Very disappointing! - Coach Bala laments Kwara United's slip-up against Go Round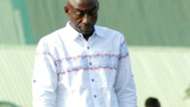 Abubakar Bala has expressed his disappointment over Kwara United's setback following their 1-1 draw at home with Go Round at the Kwara Sports Complex on Sunday.
Having gained an away point at Enugu Rangers, the Harmony Boys were keen for victory to come out of the relegation zone and Stephen Alfred's 16th minute effort almost eased their worries.
However, Chidi Nwachukwu's 76th minute equaliser saw Ngozi Elechi's side earn their first ever Nigerian topflight away point in their debut season to dash the hopes of the hosts.
After recording the second home draw under his watch, the former Niger Tornadoes gaffer lamented that his side was let down by the profligacy of his strikers in the first half.
"It was a very disappointing one but that the game of football because sometimes, you plan for a match and get something else," Bala told media. 
"In the first half, we created a lot of opportunities but we could not utilise them and we got punished for it. They got their only chance in the second half and took it. 
"The only difference was that if we had taken the chances we created in the first half, we would have been three goals up but we failed to convert them. 
"The players I met on the ground were not up to the quality I wanted but we are managing the team to see how we can end the first round in a not too bad position."
He further disclosed that the Warriors will make quality recruitments during the transfer window as he is optimistic that they will make a better outing in the second stanza.
"In the second round, we will do our best to see that we reinforce the team and ensure we do better in the second stanza. I'm not seriously bothered about our midfield," he continued.
"My concerns about the area we need to improve on is our finishing. We have seen some quality play we want to sign and I'm confident that we will do well in the second stanza."
Following the home draw, Kwara United are currently 19th with 18 points from 17 games and would be guest to Yobe Desert Stars on Sunday.