World Cup
VAR needs more work after 'exceptionally harsh decision' goes against Denmark, claims Schmeichel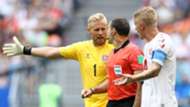 Kasper Schemichel feels angry that the VAR has gone against Denmark twice in his side's first two games of the World Cup in Russia and he doesn't think it is a good enough system to be implemented yet at a major tournament.
The Leicester City man was helpless to stop prolific penalty taker Mile Jedinak's equaliser from the spot, after referee Lahoz consulted VAR for a handball by Yussuf Poulsen.
The play initally continued before Lahoz called back to look at Poulsen's handball, although many in the Denmark camp believed the strike was too close to the RB Leipzig man and the handball accidental.
"I think it dominated the game in its own way," Schmeichel said at the Cosmos Stadium in Samara. "I think it is an exceptionally harsh decision. I don't know what else Poulsen can do in that situation.
"He is jumping so his arm is going to be slightly raised and it is headed onto his arm from half a metre away so I don't know how you can give that but the referee unfortunately saw it differently. If you are going to be giving stuff like that then you are going to be facing a lot of penalties in general.
"I think work is needed on VAR, I don't think it is where it should be at the moment. I think in time maybe it can work but that's two games in a row where we have come on the bad end of a VAR decision. I think we had a situation with Andreas Cornelius where he tried to stay on his feet.
"He is probably too honest and he should have had a penalty himself, but he is an honest guy and he tries to stay on his feet. That's maybe a situation where the VAR could have helped the referee. The free-kick on Yussuf Poulsen leading up to the corner kick that they got where the penalty was. Someone needs to tell the referee that was a bad decision."
Peru had also had a VAR decision in their favour against Denmark but Christian Cueva missed the resulting penalty in that match that they ended up losing.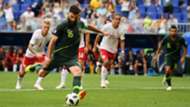 Denmark have four points from two games in Group C, although they are still not ensured a place in the last 16 as they prepare for their final match against France in Moscow. Schmeichel admits that it will be difficult to overcome Didier Deschamps' side.
"It will be a very tough game and we are going to have to be better than we were today," He continued. "I thought we did okay, we started the game well. We dominated the game and we lost a bit of momentum but I am sure we will be ready."
France beat Peru 1-0 in the following Group C game to qualify for the last 16, while dumping Peru out of the competition. That leaves Denmark and Australia to battle over the other spot in the knockout stages on the final match day in the group.