African All Stars
VAR and goalscoring returns must not overshadow Kelechi Iheanacho's need for evolution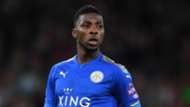 ---
COMMENT    By Solace Chukwu    

Follow on Twitter
---
A salient part of football is the storyline within which its actions and results are reported, and so, while Kelechi Iheanacho netted twice in the FA Cup to eliminate a plucky Fleetwood Town side that has pushed Leicester City all the way to a replay this week, the overwhelming focus was on VAR.
It is an interesting bit of trivia, no doubt, in much the same way that Daniel Amokachi holds the distinction of being the first player to score in the UEFA Champions League. Never mind that the competition had simply undergone a rebrand, a glossy reboot of a spectacle that had existed since the 50s. It matters more to a particular group, naturally; for the Nigerian, it holds a sliver of nationalistic pride.
Of course, VAR is still something of a novelty, and is one that will take a while to be fully embraced. The actual nuts and bolts needs some explaining still, especially to the lay-fan; but we can understand easily enough that, when a chance finally came for Iheanacho, he grabbed it with both hands.
He also, in doing so, reinforced a truth that, while heartwarming, ultimately points to frustration: he is perhaps the best finisher at Leicester. Both goals were nerveless in their simplicity; the 21-year-old displays a highly pragmatic bent in front of goal, deciding very quickly what club to pull out of the bag.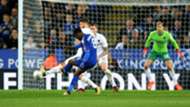 The frustration is borne of what happens when he isn't effortlessly slotting away goalscoring opportunities. It is why, for all that he took them well, his brace revealed nothing new. The same foibles were evident in his game, and while one might chalk it up to a lack of confidence – there was a lot more swagger after he got off the mark – there is no real indication that his lot will significantly improve any time soon.
Certainly not in the sense that he night become a regular within the team in the league. It is now pretty well established that Jamie Vardy and Shinji Okazaki make up a pairing that works. One of Claude Puel's great successes since arriving at Leicester has been that, in understanding that they team needs to evolve, he has not thrown out the baby as well.
As such, while Riyad Mahrez has occasionally played a more central role, and Demarai Gray has been integrated more readily, Shinji Okazaki remains a crucial component, albeit used depending on the peculiar strengths of the opposition.
The Japan international is crucial in ensuring the Foxes are not undermanned in midfield. His tenacity and stamina allows Leicester play a 4-4-2 without being compromised, and is most useful against the league's bigger teams, or those who prioritize possession.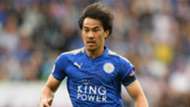 Mahrez, on the other hand, is largely used as a connector between midfield and attack, and does not get through as much defensive work as Okazaki. His role is simply to help the team transition, using his dribbling ability to cut right through the middle of the pitch.
Iheanacho, for all his talents, can replicate neither of those roles, and that is a paradox that has perhaps prevented his career from truly hitting the next level: he is a second striker who seems completely incapable of doing the things that modern football requires second strikers to do.
He isn't quick, and lacks the physicality or visceral aggression to make up for that.
His calmness in front of goal is not replicated under pressure in tight spaces, neither are his feet particularly quick. For all his silk, there is very little spunk. What he is at this point, for all intents and purposes, is a high maintenance poacher.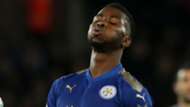 Not that this is necessarily a bad thing: in 229 minutes in the Cups for Leicester this term, he has scored or assisted a goal every 57 minutes this term. He's yet to find the net in nine Premier League games and 256 minutes with the East Midlanders, and he was left on the bench as the Foxes beat Watford 2-0 on Saturday.
However, his efficiency remains as impressive as it was at Manchester City under Pellegrini, when he was the toast of the Etihad.
It was at Manchester City that he evolved into the player we have now, the player who caught the Foxes' eye enough to command a fee just under 30 mllion Euros.
However, if that bit of VAR-related trivia is not to be highlight of a truly unique player's time in English football, he will need to adapt again.