Liverpool v Everton
Van Dijk's fairy tale Liverpool debut dampened by Firmino and Holgate flashpoint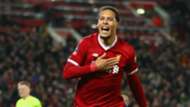 Jurgen Klopp's initial plan had been to delay Virgil van Dijk's debut, so the world's most expensive defender would have a better opportunity to be "fine-tuned" with his team-mates. On Friday morning, however, Liverpool's manager had a change of mind and decided his new acquisition would get his first start in the combustive atmosphere of a Merseyside derby.
He was acutely aware that any analysis of the third-round FA Cup test against Everton would place the 26-year-old's performance under the microscope given his £75 million price tag. And so, in his pre-match explanation of the line-up, the Reds boss implored supporters to have patience with Van Dijk and remember that "the best things will come. But in this game, he has to help us. We know that and we will help him as well."
Klopp need not have worried and as he took his place at Anfield's top-table, he certainly had no regrets as he reflected on the player's "fairy tale" bow.
On 84 minutes, Van Dijk headed in Alex Oxlade-Chamberlain's corner in front of the Kop to settle the encounter, which had been even after Gylfi Sigurdsson cancelled out James Milner's penalty.
A winner on debut is special, a winner on your debut in a derby at the death is - as per the scorer's own description - "unbelievable."
Liverpool debut 
Goal at the Kop End 

Virgil van Dijk, it just had to be him. What a moment!  #FACup pic.twitter.com/HnpOow2oex

— Football on BT Sport (@btsportfootball) January 5, 2018
Van Dijk, arms wide and at his sides, shouted in celebration towards his new supporters - all delirious with limbs everywhere - as he made a dart towards the corner flag and indulged in a knee-slide. Oxlade-Chamberlain hugged him, and soon the Netherlands international was swarmed by the rest of his team-mates as Sadio Mane hopped on his back and Everton heads collectively dropped.
Through those scenes, it seemed like Van Dijk had been at Anfield for ages - a sense that prevailed throughout the fixture.
It wasn't just his defining goal that marked the former Southampton captain out under the lights; he was a vocal co-ordinator at the back, mammoth in the air and so classy on the front foot.
He gained possession nine times, making two interceptions and three clearances. Van Dijk played the most passes and had the second-most touches.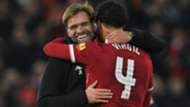 "He was much better than I thought to be honest tonight because it's difficult, it's always difficult," said Klopp. "I said before the game that my expectations are easy to reach because I know how good he is and so I only want him to show that. I still know that he's a human being and things can happen that he can show it tonight, things like this happen. But we all know that expectation can lead to pressure and then you look a little bit different than you look usually, and he obviously could stand the pressure tonight. 
"He was for sure nervous but you could not see it and that's the most important thing probably. He came quite well in the game and then from this point on I think how it is as a player you are then in kind of a tunnel, you don't think about anything else than the game, so that helped a lot.
"We defended a lot of situations really well, leading to situations that were easy for him to handle because of course he is really good in the air. But then there came a few situations where it was a little bit tighter and he had a brilliant first touch, played football, not too complicated – which makes real sense always, but especially in your first game. So he played much better than I thought he would play tonight."
While Van Dijk savoured his "fantastic night," there were unpleasant scenes at Anfield too. Shortly after a soft penalty was awarded against Mason Holgate, which Milner converted to break the deadlock on 35 minutes, the young defender pushed Roberto Firmino over the advertising hoardings in front of the Main Stand as the pair chased the ball out for a throw-in.
Liverpool's No.9 reacted angrily to the foul and confronted his counterpart, with referee Bobby Madley in-between them. Firmino swore him in Portuguese, saying 'are you crazy, are you crazy? Son of a b****'
As he continued to shout at Holgate - his words no longer visible on TV - the Everton player, who had been staring him down, suddenly erupted.
He raged to the referee over what had been said, seemingly accusing the Brazilian of using a racial slur. Madley relayed the incident to the fourth official, Jon Moss, and it will be part of the match report submitted to the Football Association.
A Liverpool spokesperson said: "The club and player will fully co-operate with the relevant authorities to ensure the facts are established in a thorough manner if deemed necessary or requested.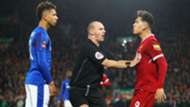 "While that process is ongoing we will not be making any further comment."
Klopp admitted he didn't "really know anything about it. "The fourth official said something to me. I never heard the words so I thought they were going to investigate the Holgate foul. That's how I understood it."
Sam Allardyce, meanwhile, said: "I'm telling you nothing until whatever systems are used to find out what exactly happened and what didn't happen .
"I'm here to talk about football, not controversial incidents."